EVAL_800W_PSU_4P_C7
Overview
Description:
This 800W evaluation board is intended to be a form, fit and function testplatform for server applications to show operation of the 600V CoolMOS™ C7 SJ MOSFET, CoolSiC™ Schottky diode 650V G6, OptiMOS™ 40V, 1EDI and 2EDN EiceDRIVER™, quasi resonant flyback (QR) and XMC™ 1400/4200 controllers. The evaluation board is designed around the Infineon 600V CoolMOS™ 4-pin device and OptiMOS™ 40V technology with integrated Schottky-like diode to show switching performance and power density design by using digital control.
Board components: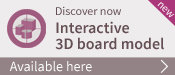 Summary of Features:
Low cost 4 layer
Input voltage: 90-265 V AC
>95% efficiency @230 V AC
Benefits:
High efficiency@100% load
Target Applications:
NEW interactive 3D model
Support
Find an answer to your question
Technical Assistance Center (TAC)
Infineon welcomes your comments and questions.

If you have any questions concerning our products, please fill out the following form. Your inquiry will be sent to the appropriate specialist who will be in touch with you as soon as possible.

You will receive a confirmation E-mail to validate your address in our system. Any attached file to the reply which will help to support your inquiry is highly appreciated.