Overview
Evaluation board for CIPOS™ Maxi, features 1200 V SiC IPM IM828-XCC
The EVAL-M1-IM828-A features IM828-XCC, one of the CIPOS™ Maxi product family, which combines six 1200 V CoolSiC™ MOSFETs with an optimized 6-channel SOI gate driver. It is optimized to industrial application like power factor correction of heating ventilation air conditioning (HVAC) , fan motors, pumps and motor drives.
The EVAL-M1-IM828-A was developed to support customers during their first steps of applications with CIPOS™ Maxi IPM. In combination with control-boards equipped with the M1 20pin interface connector, like EVAL-M1-101T, it demonstrates our CIPOS™ Maxi SiC IPM technology for motor drive.
Summary of Features
Ready to use power stage with 1200 V IPM to drive 3-phase motor
Nominal input voltage 380 Vac
Maximum 8 kW output power with cooling
On board EMI filter
Over current protection
Over temperature protection
Test pads with hooks to attach standard oscilloscope probes
Standard MADK M1 20pin interface connector
Benefits
Evaluate IM828-XCC IPM module for your application
Get your motor running within one hour in combination with Eval-M1-101T
Learn more about motor control in high voltage domain
Recommended board combination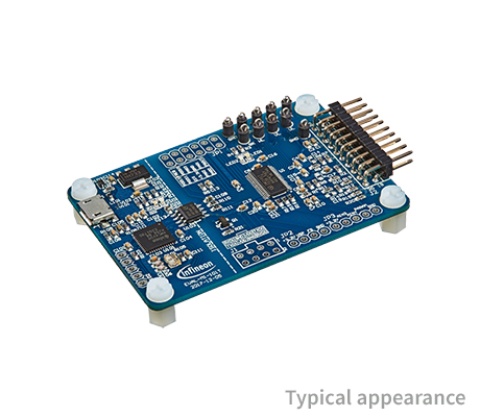 EVAL-M1-IM828-A evaluation power board can be connected to EVAL-M1-101T controller board, which is powered by IMC101T-T038 iMOTION™ Motor Control IC featuring advanced Motor Control Engine (MCE), that enables state-of-the-art Sensorless Field Oriented Control (FOC) without need for any coding. IMC101T-T038 is a part of the iMOTION™ IMC100 series, which is the next generation of well established iMOTION™ motor control IC platform dedicated to field oriented control of PMSM (BLDC) motors.
Diagrams
Training
How easy can it get - World's first 1200 V transfer molded Intelligent Power Module with SiC
Combining an optimized 6-channel 1200 V SOI gate driver and 6 CoolSiC™ MOSFETs in a DIP 36X23D package Infineon introduces the world's first 1200 V transfer molded Intelligent Power Module (IPM) with silicon carbide (SiC). The new CIPOS™ Maxi family member is aiming at variable speed drive applications such as industrial motors, pumps and HVAC - making it easy to integrate SiC in the power design of motors.
The presentation will give an overview of the CIPOS™ family of IPMs highlighting the specs of the new family member. Additionally, the advantages of CIPOS™ Maxi 1200 V for servo drives, fans and pumps as well as for heating, ventilation and air conditioning will be explained.