Predictive maintenance and condition monitoring
Overview
Discover Infineon's XENSIV™ sensor and IoT product portfolio for accurate and reliable data collection and processing for condition monitoring and predictive maintenance
Predictive Maintenance techniques detect anomalies in equipment before those turn into system-critical failures, allowing maintenance to be scheduled before the equipment actually breaks down. This increases equipment uptime reduces overall maintenance costs and allows optimization of spare part inventory by enabling preventive maintenance based on the equipment's actual needs.
After having proven its benefits in the context of Industry 4.0., this data-driven maintenance strategy is now being adopted in the Smart Buildings of tomorrow. Especially for infrastructure critical assets such as HVAC, Predictive Maintenance offers many benefits.
Condition-based maintenance vs predictive maintenance
Condition monitoring uses sensors to provide meaningful insights into the current health of various devices or items of equipment in buildings. These sensors collect data to monitor crucial operating parameters such as vibrations, sound anomalies, airflow, and current. The various types of predictive maintenance take condition-based maintenance to the next level. Building on this sensor data, predictive maintenance then uses advanced analytics and artificial intelligence to predict machine failures before they happen or to anticipate maintenance needs before they become urgent.
Predictive maintenance examples
Infineon's broad range of XENSIV™ sensors can be deployed to monitor everything from single components of production machinery to an entire smart building ecosystem. Typical use cases include HVAC equipment where XENSIV sensors monitor current, vibration, and airflow in motors, compressors, and fans. These sensors can be combined with FreeRTOS-certified XMC™ microcontrollers and OPTIGA™ security solutions so the data collected can be processed and analyzed to enable advanced IoT features such as predictive maintenance. Thanks to our Semper™ NOR Flash Memory Family all collected data can be reliably and safely stored.
Products
Typical predictive maintenance examples include HVAC units, which can be mission-critical in healthcare and industrial settings. Experience has shown that HVAC fans, motors, and compressors are the components most susceptible to failure. Information about airflow, current consumption, sound, and vibration can help to understand whether the unit is running smoothly or whether a failure is likely to occur soon. Leveraging Infineon's products, the following critical parameters can be monitored:
Videos
Training
The training gives an overview of predictive maintenance in HVAC and the role of sensors. It presents our offering and partner approach.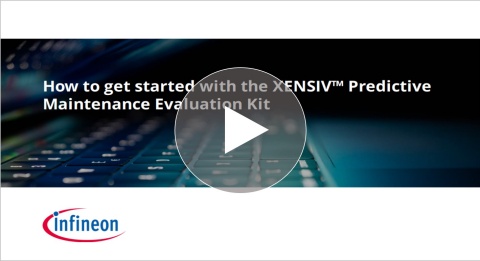 By taking this course you will…
• Get an understanding of the XENSIV™ Predictive Maintenance Evaluation Kit and all of its components
• Learn more about the functions of the evaluation kit
• Be able to set up the XENSIV™ Predictive Maintenance Evaluation Kit
Webinars
In this webinar, you will learn:
- How condition monitoring can be implemented using advanced sensor technology as a basis for predictive maintenance in HVAC devices
- How sensor data can be collected from HVAC components at the edge, be preprocessed in a microcontroller, and be sent to the cloud for advanced data intelligence
- How Klika Tech supports product development based on Infineon's sensor solutions in combination with AWS cloud integration for predictive maintenance of HVAC devices
- How to use an evaluation kit as an initial starting point for a customized end-to-end solution for HVAC devices