Overview
Broad product portfolio and advanced technologies enable next-generation cockpit system design
Digital technology is increasingly being used in cars. Consumers expect to continue their personal connected experiences using their smartphones, laptops, and tablets while they are on the road. With the E/E architecture of vehicles moving to more centralized systems, many automakers are increasingly consolidating different functions into the cockpit domain controller (CDC), which integrates multiple ECU systems, starting with the head unit and the instrument cluster. In addition to driving multiple large, high-resolution displays, some advanced driver-assistance system (ADAS) features are also being integrated into the CDC, such as AR HUD (augmented reality-based head-up display), DMS (driver monitor system), OMS (outpatient monitor system), 360° surround-view and e-mirrors to improve the driving experience for drivers and passengers.
The cockpit domain controller provides high computer processing power and an enhanced user experience, also supporting different operating systems (OS) through a scalable hardware platform. Typically, such CDC systems are enabled by high-performance system-on-chip (SoC), microprocessor, memory, Wi-Fi & Bluetooth®, power supply and sensor components. In the move from the traditional head unit to the cockpit domain controller, Infineon's broad product portfolio continues to enable fundamental CDC functions.
Computing: The TRAVEO™ T2G MCU family offers high performance (up to dual Arm® Cortex®-M7, 1500 DMIPs), wide scalability (memory density and package line-up), best-in-class energy efficiency (deep sleep mode: 35 µA, hibernate mode: 5 µA), ASIL-B functional safety and integrated hardware security module (HSM).
Sensors: The TRUETOUCH™ family and the PSoC™ Automotive family offer one-stop, in-cabin touch solutions. Automotive-qualified MEMS microphone sensors provide supreme audio reception in dynamic environments; REAL3™ ToF 3D image sensors and XENSIV™ 60 GHz radar sensors enable intuitive and less distractive HMI concepts while increasing passenger safety.
Connectivity & communication: Broad Wi-Fi & Bluetooth® portfolio supports various in-cabin wireless connections; CAN, LIN transceivers, and system basis chip (SBC) families connect head unit to in-vehicle-networking.
Power supply: OPTIREG™ PMIC, linear, and switcher devices support reliable power supply; USB-C PD controllers support fast charging (up to 100 W) with best-in-class interoperability and compliance with all kinds of mobile devices.
Storage: Broad automotive-qualified NOR flash, RAM, and F-RAM portfolio provides safe, secure, and reliable data storage.
System benefits:
Scalability: Scalable family solutions with wide compatibilities on both hardware and software support designs from low- to high-end systems with less design effort.
Performance: Best-in-class performance of sensing solutions (touchscreens, microphones, etc.), wireless solutions (Wi-Fi & Bluetooth®), and fast-charging solutions (USB-C PD) improves customer experience significantly.
Security: Secured MCU, secured memory, and secured connectivity support secured firmware updates over-the-air (FOTA), and safeguard consumers from cyber-attacks.
Total cost of ownership: Broad portfolio provides one-stop shop on both commercial and technical which significantly reduce purchase cost as well as system design effort.
Safety: TRAVEO™ T2G cluster solution adds ASIL-B functional safety to cluster display via safety overlays on 3D SoC display content; REAL3TM ToF 3D image sensor supports vision-based in-cabin-monitoring system (ICMS) solution. The XENSIVTM 60 GHz radar (+ AURIXTM MCU) provides a total solution for radar-based ICMS.
Videos
Training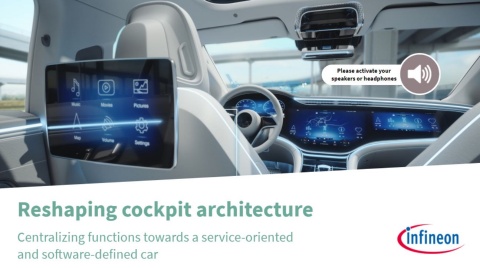 Description:
Understand the evolution of the cockpit architecture
Recognize the importance of the central modules like head unit and cockpit domain controllers and get to know Infineon solutions and their components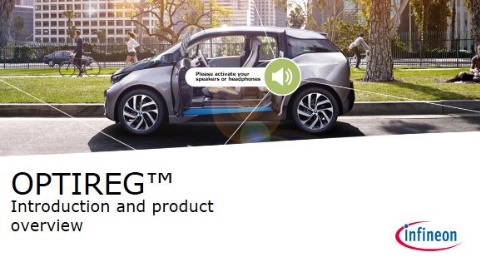 Identify the main automotive market drivers and how OPTIREG™ aims to address these and
Recognize OPTIREG™'s product families and groups, as well as their main features and target applications
Identify the three pillars upon which Infineon quality is based and recognize the main focus points of Infineon's transceiver quality program