Overview
Solutions for Automotive LED rear lighting system – architecture solutions and LED driving concepts
Exterior Lighting, LED Front & Rear Lighting, is not only one of the key differentiating factors for car-makers as a brand recognition but as well an important part of safety, reliability, energy efficiency and the so-called "User Experience: UX" (emotional identification). As more and more dynamic and animation functions have come to the Rear Lighting System, the complexity for supply, communication, sense, control, and actuation has been continuously increasing. To keep this complexity manageable in terms of space on the PCB but also in terms of power dissipated, the integration of functions and scalability of products became a key factor for the design.
Infineon offers dedicated solutions for LED control with a benefit from low power consumption and low quiescent current under the brand name of LITIX™, the best-LED Driver IC to benefit from the advantages of LEDs while providing full protection to your application. The LITIX™ family is a success story of several generations of LED Drivers:
LITIX™ Linear are designed to supply constant current up to 500mA, which enables constant LED brightness and ensures extended LED lifetime, independently from supply voltage or LED forward voltage class. LITIX™ Linear are the best solution for automotive interior LED lighting as well as LED taillights and indicating LEDs when diagnostic is required
LITIX™ Basic are optimized for the control of low to medium power LEDs in automotive applications. The whole family of linear constant current sources offers footprint compatibility ranging from 1 to 3 output channels and 60-180mA and enables stable and reliable LED brightness by precise current control.
LITIX™ Basic+ serve as a perfect extension to the existing LITIX™ Basic family. LITIX™ Basic+ linear constant current sources with their 1 to 3 inputs/outputs build a scalable family to reduce system costs (e.g. less external components needed, the introduction of power shift feature). Output currents from 5 mA up to 360 mA (with power shift) can be served. LITIX™ Basic+ offers the most flexible Single LED Short (SLS) feature in the market: the device can either go to a latched off-state, active retry, or simply diagnosis without channel deactivation.
Products
Infineon's solutions for automotive rear LED lighting
SPIDER+ LED for resistor-based solutions
LITIX™ Linear for high power stop light functions
LITIX™ Basic for tail light functions
LITIX™ Basic for cost and space optimization
LITIX™ Power
LITIX™ Power Flex
Training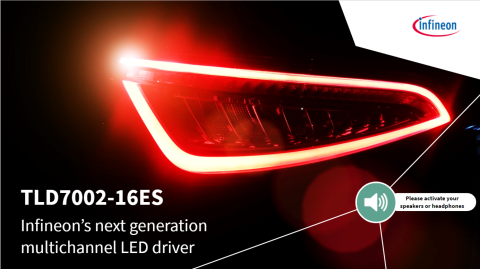 In this training, you will:
Be able to identify solutions for rear lighting architecture challenges and understand the usage of smart linear drivers, and
Get to know the key features and benefits of using TLD7002-16ES for dynamic rear lighting solutions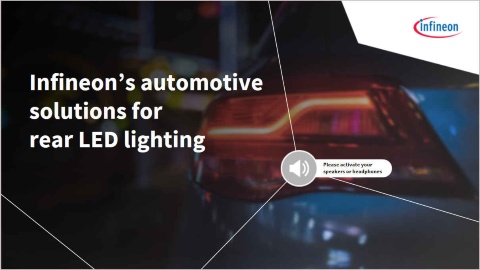 In this training, you will understand:
the different LED driving concepts
get to know the Infineon solutions regarding automotive rear LED lighting
In this training, you will:
Recognize Infineon's set of LED driver families for automotive rear lighting
Apply Infineon's chip-set in a conventional rear lighting architecture and its extension for dynamic effects