Überblick
Flexible linear current source family of automotive LED drivers with scalable feature set and diagnosis
The LITIX™ Basic product family of linear constant current sources offers high design flexibility with 1 or 3 output channels and pin-to-pin compatibility.
LED currents from 60-180mA per channel enable stable and reliable LED brightness.
Its diagnostics and logic feature set improve system reliability.
The LITIX™ Basic product family is suited for exterior LED lighting as well as other LED applications.
Highlights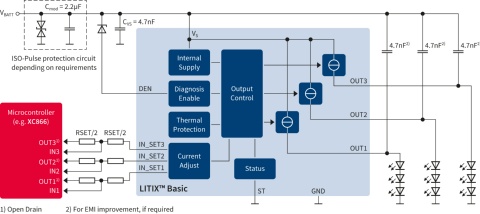 The image shows an application diagram for the TLD2314EL and its peripherals.
Click here to read more on the automotive LED rear lighting application solution.