Apprenticeships
Would you like to start gaining practical experience and create a successful career with an apprenticeship? Then you've come to the right place!
Career apprenticeships at Infineon
Would you like to get straight to work after finishing school, stand on your own two feet, and start earning money? We offer this opportunity through our broad selection of technical and commercial apprenticeships. Right from the start, you will be an important part of our team and will be given direct attention and support: with internal workshops, training, and much more. And it's not hello, goodbye after you have finished your apprenticeship either – exciting opportunities for continuing education await you, including university studies with a successful entrance qualification.
Discover our apprenticeship offerings
Microtechnology, mechatronics, or perhaps something commercial? Here, you'll find an overview of our apprenticeship offerings including information about requirements, content, locations, and duration. Click through and apply online!
Applications from people with disabilities are also very welcome!
Technical apprenticeships
Commercial apprenticeships
In the warehouse clerk apprenticeship (f/m/div), you will get to know all logistics processes: from receiving incoming goods and incoming control, to proper goods storage. With a pallet truck and a forklift, you will maneuver delivered goods through the narrow aisles to their designated storage locations as smoothly as if you'd done it all your life, in order to subsequently prepare our customers' orders for shipping. You will also learn the fundamentals of information processing so that the use of standard PC programs becomes second nature.

Once you're completed a General Certificate of Secondary Education (Hauptschulabschluss oder mittlere Reife) you are qualified with your start at Infineon. English is not a foreign language to you, and you are ready to take on responsibility as a team player.
Apprenticeship contents
Logistics, information processing, and much more.

Apprenticeship location
Warstein

Apprenticeship duration
2 years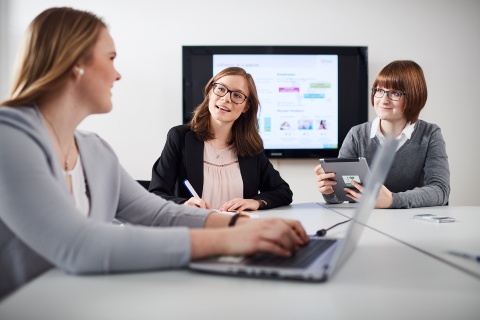 During this apprenticeship, you will become familiarized with the entire range of modern office management: You will increasingly take on tasks in assistance, accounting and human resources and obtain fundamental skills in office management and statistics. In different departments, you will deepen your specialized knowledge and increase your confidence and experience, allowing you to later work in a business team, a technical group or as an assistant.
Alongside the traditional office management apprenticeship (f/m/div), this double qualification also includes an IHK Associate's degree as a certified foreign language correspondence clerk (f/m/div) in English. With this double qualification, we prepare you for the ever-increasing internationalization and globalization. The need for well-educated industrial management assistants with additional, well-established foreign language skills is constantly growing.

In addition to a General Certificate of Secondary Education (mittlere Reife), we expect very good German and English language skills, organizational talent and a joy for learning, data management and text processing.

Apprenticeship contents
Human resources, Purchasing, Office Support, Accounting, Controlling, Sales and Marketing, Logistics and much more.

Apprenticeship location
Munich/Neubiberg

Apprenticeship duration
2.5 years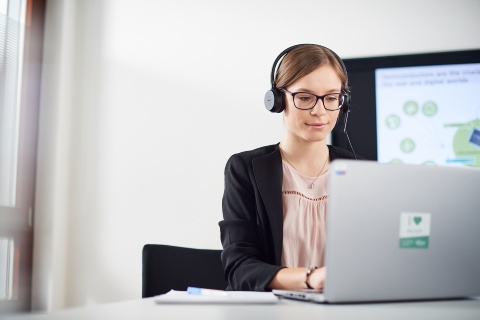 Apprenticeship contents
During the patent law apprenticeship (f/m/div), you will gain all the key knowledge needed for this diverse career – both in theory and in practice! Above all, this includes direct contact with inventors and engineers in our development departments at various locations. Additionally, you will get to find out about new products long before they appear on the market. You will work with Infineon's patent attorneys, external law firms and diverse patent offices both domestically and abroad. You will be well suited to the formal challenges of German and international patent law, registered design law, and trademark law, and will see to it that deadlines for the protection of inventions are met.

In addition to a General Certificate of Secondary Education (mittlere Reife), a general matriculation standard or entrance qualification for a university of applied sciences, we expect a strong interest in economics and law as well as excellent German and English language skills. Do you enjoy working in a team, adhere to schedules and pay close attention to detail? Then this apprenticeship is the ideal first step to your career.

Apprenticeship location
Munich/Neubiberg

Apprenticeship duration
2-3 years (depending upon level of school completion)