The Spark Connected Pantheon™
The Spark Connected Pantheon™ intelligent control software is a flexible platform that allows customers to design and verify a complete in-cabin wireless charging solution. Pantheon™ for automotive is a self-contained module that runs concurrently with a customer's application layer software. A robust software API allows real-time visibility and control of critical charging and safety functions.

Pantheon™ was built conforming to the latest automotive software development requirements, such as MISRA, and provides AUTOSAR support on compatible hardware. Run-time debug feedback provides visibility during charging functions and allows the user to quickly converge on a production solution and reduce time to market.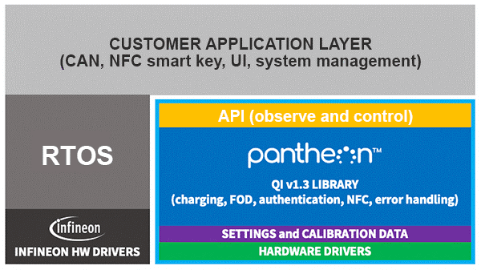 The Spark Connected hardware and software reference design has been certified compliant to the Qi standard by the Wireless Power Consortium and has passed CISPR-25 certification for EMC. This reduces overall risk to the customer program and improves predictability during the final product qualification process.