Events @ Infineon Hub
We don't just run events. We offer a special event location.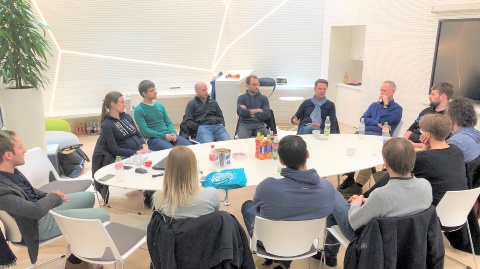 You can join us at the Infineon Hub at TU Wien in different ways:
Visit our events
We love technology! You too?
We organize regularly events for students, graduates, young professionals and everyone who is interested in technology. Meet scientists of TU Wien or tech experts, expand your knowledge in technology and build a network to push your future career.
Get more information about each event by clicking on the colored boxes below.
You can hardly find a place to study at the university? We have the solution! Every Tuesday from 9 am to 5 pm you can use the hub for studying or working on projects. We are equipped with state-of-the-art technology and offer a great atmosphere as well as free drinks and snacks
Book the location for your event

Who can book the hub and how does it work?
Nearly everyone* can organize an event, but please remind yourself that our focus is on technology. Just send us an email with information about your event and we will get in touch with you.
*(e.g. students and PhD's in general, student representatives, associations, start-ups, technical institutions, scientists, tech experts,…)

Always be up to date and and sign up for our monthly newsletter