Arcade Gaming Station
With a Raspberry Pi and magnetic sensors
Description
In this project we use magnetic sensors for the joystick and buttons combined with a Raspberry Pi 4 to play open source python games. All manufactured parts are either laser cut or 3D printed.
The Arcade Gaming Station is equipped with two magnetic Hall Switch Shield2Go reading the buttons and a magnetic 3D Hall Shield2Go monitoring the joystick position. They are connected via the Shield2Go Adapter for Raspberry Pi to a Raspberry Pi 4. The Sound is coming from two speakers, which are driven by our 40W MA12070P class D multilevel amplifier.
Summary of Features
playing open source games
easy-to-use sensors
powerful sound module
How to build one:
The housing of the arcade demonstrator is completely built with a laser cutter. The used material for the control panel is Plexiglas (4 mm), the rest is built out of 4 mm wood. To rebuild the setup you need a laser cutter, glue and vice clamps.Don't glue everything together right away as you need to have access to the inside for installing the electronics. Start with glueing the side walls and the middle plate only.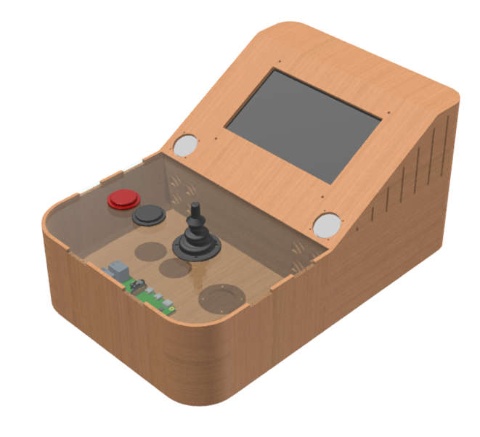 Now assemble the buttons and the joystick. Attach the sensors and magnets and start wiring and screwing everything in place. The Merus Audio Amp Hat ZW is set on top of the Raspberry Pi pin header. On top of this, the Shield2Go Adapter is placed. You need to wire the pins"3V3", "GND" and "INT" (or "Q") from the Hall Switch Shield2Go to the corresponding pins of the Raspberry Pi Shield2Go Adapter – as you would do if you would place the Shield2Go directly into the Slot. For Button "A" this would be the pins of Slot 1, Button "B" is connected to Slot 2. For the 3D magnetic sensor Shield2Go at the joystick you need to wire the pins "3V3", "GND", "SDA" and "SCL" to the corresponding pins of Slot 3.
Write the Arcade Gaming Station Image file to the SD card, put it into the Raspberry Pi and start it up.
Now you are ready to play!
A more detailed description can be found in the application note below.
Laser cut and 3D printing files
Boards
| Image | Board | Family | Description | Status |
| --- | --- | --- | --- | --- |
| | | 3D Magnetic Sensor | Shield2Go equipped with TLE493DW2B6-A0 - XENSIV™ 3D magnetic sensor | active and preferred |
| | | Hall Switches | Shield2Go equipped with TLE4964-3M - XENSIV™ Hall switch | active and preferred |
| | | MERUS™ | This audio Amp HAT for Raspberry Pi Zero W is equipped with the MA12070P class D multilevel amplifier which can provide up to 40W peak power from the official Raspberry Pi supply and up to 48KHz/24bit music playback | active and preferred |
| | | Sensor | | active and preferred |