Overview
iMOTION™ IMC300 - Motor/PFC controller plus MCU for maximum flexibility
iMOTION™ IMC300 is a series of motor control ICs combining the feature set of the IMC100 series with an additional microcontroller for maximum application flexibility.
By incorporating the Motion Control Engine (MCE 2.0) the IMC300 series provides the same feature set as the IMC100 series in terms of motor control algorithm, power factor correction and protection features. In addition to the scripting engine integrated in the MCE 2.0 the IMC300 series comes with an additional microcontroller (MCU). While being connected to the control interface of the MCE, this MCU runs completely independent offering the customer maximum flexibility for adding functionality and controlling the MCE.
Select one of our iMOTION™ families and get more information
Highlights
IMC300 - Maximum Flexibility for almost any Application
Powerful tools like MCEWizard and MCEDesigner reduce the implementation effort for a variable speed drive to the simple configuration of the MCE for the respective motor.
In the IMC300 dual core implementation the MCE runs fully independently from the microcontroller providing the optimal combination of easy to use and reliable motor control with a maximum of customer application flexibility. The MCE in the IMC300 series can control the motor running either sensorless or with sensor support like analog or digital hall sensors and is available with ready-to-use algorithms for boost and totem pole PFC implementations. IMC300 device variants are available for standalone motor control as well as motor control plus PFC and come in an LQFP-48 or LQFP-64 package. All devices can be used in applications requiring functional safety acc. to UL/IEC 60730 ('Class B').
Key benefits
Highly flexible combination of ready-to-use motor and PFC control with an industry standard microcontroller
Outstanding customer benefits:
Ready-to-use motor control
iMOTION™ Motion Control Engine
Integrated protection features
Arm® Cortex®-M0 based MCU

No programming required
Easy motor parametrization
Fully autonomous operation

Single or leg shunt
Sensorless operation with optional hall support
Boost or totem pole PFC
Support for IEC 60730 ('Class B')

Over-/under voltage, -current, -temperature, etc.

Industry standard core with flexible peripherals and communication interfaces
Use of Arm ecosystem
Both cores in the IMC300 series run autonomously and provide dedicated interfaces to the PC. The MCE which runs the motor and PFC can be connected to the PC via a UART, applying MCEDesigner for configuring and tuning the motor and PFC control loop. Connection to the microcontroller is provided via Arm's serial wire debug (SWD). Writing, downloading and debugging code on the MCU does not interfere with the operation of the MCE and allows single step debug with the motor running. The MCU connects to the MCE via a high-speed serial link. Infineon provides a ready-to-use library for the MCU that implements the communication protocol to configure and control the MCE as well as report the status of the drive.
Features
Benefits

Completely self-sustaining Motion Control Engine (MCE 2.0)
with identical feature set as the IMC100 series
Option for boost or totem pole PFC
Integrated protection features
Scripting engine for application flexibility
Support for IEC 60335 ('Class B')
MCU with industry standard ARM® Cortex®-M0 core
Flexible peripherals and communication interfaces
High level of pin-compatibility to IMC100 series

Fastest time to market
No motor software development
Easy motor parametrization and tuning
Maximum application flexibility
Scripting engine for first level of customization
Completely independent microcontroller for additional functionality and customized communication
Easy scaling between IMC100 und IMC300
This might also interest you
Training
The latest software release of Infineon's iMOTION™ Motion Control Engine (or MCE) supports two kinds of Universal Asynchronous Receiver Transmitter communication options. This training focuses on the Configurable UART communication protocol.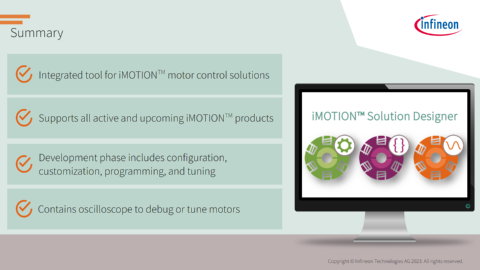 The iMOTION™ Solution Designer bundles all PC-based support functions related to setting up and running iMOTION™ products. This includes the configuration, programming and live tuning using configurable oscilloscopes as well as script editing and debugging. This training will help you get started with iMOTION™ Solution Designer.
The release of iMOTION™ 2.0 comes at an opportune time. Recent trends in the markets show that inverterization is taking hold at small as well as large companies, being applied across traditional applications, such as refrigerators, and for newer applications like hair dryers and water purifiers. To keep up with the trend, companies are required to convert outdated single speed motors to sophisticated variable speed motor drives. The latest iMOTION™ 2.0 is a close-knit turnkey solution consisting of advanced software, hardware, prototyping & evaluation boards, and support material that makes it easier than ever for customers to go to market cheaper and faster with an efficient, inverterized motor drive solution. Watch this video to get an overview of what is new with iMOTION™ 2.0.