Overview
The Kelvin Emitter Package Configuration
In standard through-hole packages, as for instance TO-220 or TO-247, each lead pad resembles a parasitic inductance. The TO-247 4pin package has an extra Kelvin emitter connection. This 4pin known also as Kelvin emitter terminal, bypasses the emitter lead inductance on the gate control loop, enhancing the IGBT's switching speed and decreasing the switching energy.
Details
TO-247 4pin package with Kelvin emitter

TO-247 4pin package with Kelvin emitter enables faster commutation, improving the switching behaviour of IGBT. Dynamic losses are reduced by 20% in comparison to standard TO-247 package, thus increasing the overall system efficiency and enabling the IGBTs to operate at lower temperature.
The faster the IGBT is able to switch, the bigger the benefit from TO-247 4pin becomes.
Discover the Families
TO-247PLUS 4pin package for 1200 V IGBT
20% and above total switching losses reduction, highest current density up to 75 A 1200 V IGBT with 75 A diode in TO-247 footprint, 20% lower Rth(jh), 15% better heat dissipation, fast clip assembly.
Higher efficiency, lower switching losses with 4pin package variation
The special feature of TO-247PLUS 4pin package is the 4 pin used as connection to the driver IC. The 4th pin removes influence of emitter pin inductance on the gate control loop, thus IGBT respond faster to the driver IC signal. Faster response of IGBT reduces switching energy loss and enables faster turn on/off switching. Using a 4pin package instead of 3pin allows for more than 20% total switching losses reduction.
Higher efficiency. Increased the power density. Lower cost.
Higher efficiency and lower cost arecommon key requirements for next generation designs. But can higher system performance be reach at lower cost?
As significant portion of power loss occurs within the power devices in inverter circuit, lower losses or higher efficiency of the power switch has direct impact on the system power output. The less energy is lost in the system the more can be transferred to output power and system power density is increased. The less energy is lost and more transferred to the output the lower are output power cost kW/€.
Features
Benefits

Highest current rating co-pack 75 A 1200 V IGBT co-packed with 75 A diode
20% lower thermal resistance Rth(jh) comparing to standard TO-247
Extended collector – emitter creepage of 5.4 mm
Fully encapsulated front side mold compound

20% reduction of turn on losses due to better feedback loop to driver IC with 4th pin Kelvin Emitter package configuration
Higher system power density - Ic increase from 40 A up to 75 A 1200 V keeping the same system thermal performance "
20% lower thermal resistance Rth(jh) and improved by ~15% heat dissipation capability of TO-247PLUS vs TO-247
Reach higher design flexibility and higher system performance with 1200 V TO-247PLUS 4pin!
TRENCHSTOP™ 5 in TO-247 4pin Kelvin Emitter Package
What happens when you combine the TO-247 4pin Kelvin Emitter Package with TRENCHSTOP™ 5 Discrete IGBT?
The IGBT performance enables switching losses reduced by 20% compared to TRENCHSTOP™ 5 Discrete IGBT in standard TO-247.
"Increase the efficiency. Increase the power density! Reduce cost". Sound familiar?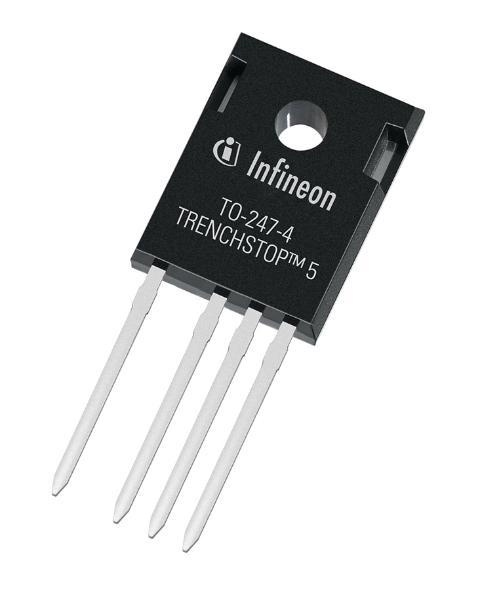 The ever relentless pursuit for innovation and cost improvement continues. But where's the relief? Here is where Infineon's new TRENCHSTOP™ Discrete IGBT technology combined with the new TO-247 4pin Kelvin Emitter package comes in. It provides you with a 20% reduction in lead inductance, achieved by implementing the 4th emitter-sense pin. And, it gives you 20% lower switching losses under full load conditions.
In addition, our customers have reported a full 1% system efficiency improvement when using TRENCHSTOP™ 5 Discrete IGBT in combination with the TO-247 4pin package in PFC and inverter stages. We've broken the 97% system efficiency barrier – as first in the industry. Furthermore, the higher efficiency and high-speed switching capability have also improved power density. Operating at up to 100 kHz, passive component sizes can be reduced significantly and power density can be doubled when compared to the closest competitor IGBTs. This saves money and space.
Extend your performance envelope to tackle the challenges you face head-on and get relief.
Features
Benefits

20% reduction in total switching losses compared to TO-247 package using same technology
Extremely low control inductance loop
Emitter pin for driver feedback

System efficiency improvement compared to standard TO-247
Benefit increase at high current conditions
IGBTs operates under lower junction temperature
Much less power dissipation under overcurrent conditions
TO-247 4pin Product Portfolio

This might also interest you