Overview
HYPERRAM™ - Low pin-count, High bandwidth pSRAM in small footprint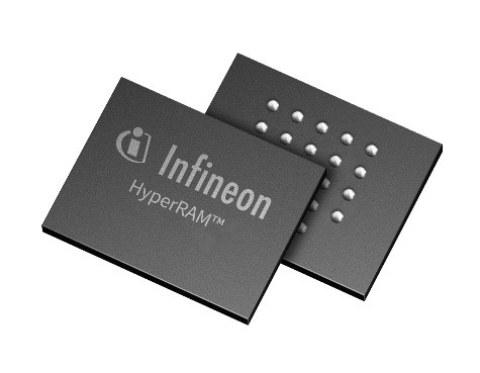 HYPERRAM™ is high-speed CMOS, self-refresh DRAM, with HyperBus™ interface. It's memory array is internally structured like DRAM, but externally act like SRAM.
The DRAM array requires periodic refresh to maintain data integrity. HyperRAM™ internally manages the refresh operations on the DRAM array when the memory is not being actively read or written by master (host). Since the host is not required to manage any refresh operations, the DRAM array appears to the host as static cells that retain data without refresh. Hence, HYPERRAM™ is described as Pseudo Static RAM (PSRAM)
These low-power, high performance and low pin-count pSRAMs, are suitable for applications requiring additional RAM for buffering data, audio, images, video or as a scratchpad for math and data-intensive operations.
Density : 64Mb, 128Mb, 256Mb, 512Mb
Interface: HyperBus™(x8), Octal xSPI(x8) and HyperBus™ Extended I/O (x16)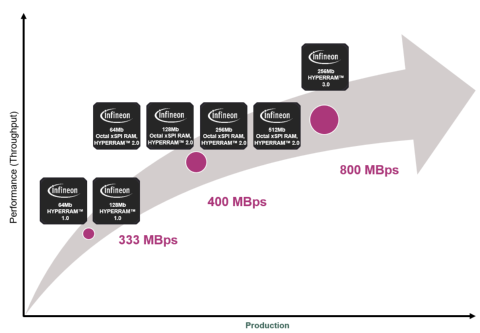 HYPERRAM™ 2.0 is the second generation of Low pin-count pSRAM from Infineon that support throughputs of up to 400MBps. HYPERRAM™ 2.0 products are available from 64Mb to 512Mb. Our third-generation pSRAM product - HYPERRAM™ 3.0, doubles the throughput to 800MBps using a new 16-bit extended version of the HyperBus™ interface. 256Mb HYPERRAM™ 3.0 products are now available in production.
These pSRAM products supports JEDEC compliant Octal extended SPI interface (Octal xSPI) and HyperBus™ interface.
Key Features
Small Form Factor - FBGA package to ensure small PCB footprint
Low Pin-Count - Low pin-count to aid design simplicity and reduce system cost
Low Power - Hybrid sleep mode and partial array refresh for energy efficiency
High Throughput - High read/write bandwidth to maximize system performance