Overview
Evaluation board for EiceDRIVER™ X3 single-channel highly flexible isolated gate driver family
The EVAL-1ED3890MX12M is in half-bridge configuration with two gate driver ICs (1ED3890MX12M) to drive power switches such as IGBTs, MOSFETs and SiC MOSFETs. The switch type can be freely chosen. The board has a size of 85 x 85 x 15 mm without any power switch assembled.
The board is best suited to leverage the highly configurable X3 Digital (1ED38xx) family with its rich feature-set. Configuration is performed via I2C bus.
The evaluation board is recommended to be used with a companion microcontroller evaluation board EVAL-1ED38X0DCT to optimize the configuration process.
Summary of Features
I2C bus for parameter adjustment, state and fault feedback, ADC measurements and condition monitoring
Adjustable Clamp/Clamp driver/ADC pin
Two precise VCEsat detection (DESAT2) circuit with fault output, adjustable leading edge blanking time and individually adjustable trigger voltages, filter times
Two-level turn-off (TLTO) with adjustable slopes, plateau time and plateau level
Adjustable soft turn-off after desaturation detection
Adjustable hardware UVLO with hysteresis for IGBTs and MOSFETs on both VCC2 and VEE2 rails with active shutdown
ADC measurement of internal parameters: supply voltages and internal temperature
40 V absolute maximum output supply voltage
± 9 A typical sourcing and sinking gate current capability
High common-mode transient immunity CMTI = 200 kV/µs
Small space-saving DSO-16 fine-pitch package with large creepage distance ( >8 mm)
Gate driver safety certification according to UL 1577 and VDE 0884-11
Benefits
Enables fast design cycles due to low external component count and still offers adjustable DESAT with Soft-off functionality
Best-in-class DESAT accuracy: perfect for all applications requiring reliable short-circuit protection (including SiC MOSFET and IGBT7)
Enables predictive maintenance and rapid prototyping
The precise threshold and timings, combined with UL 1577 and VDE 0884-11 certification enable superior application safety
Perfect fit for all applications requiring a reliable DESAT protection, benefit from an active Miller clamp and prefer small PCB space requirements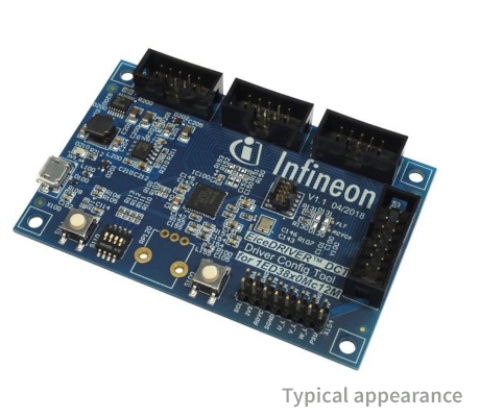 Connect your EVAL-1ED3890MX12M to the EVAL-1ED38X0DCT XMC4200 based microcontroller board for hassle free parameter configuration and evaluation experience. The EVAL-1ED38X0DCT also comes with a graphical user interface dedicated for the EiceDRIVER™ 1ED38x0Mc12M product family. This combination enables a simplified power-up during product evaluation and offers an interactive experience for the extensive parameter set of the gate driver IC.
Diagrams