DEMO BGT60TR13C
Getting started with the XENSIV™ 60GHz demo board for advanced sensing
Overview
BGT60TR13C offers innovative and intuitive sensing capabilities
This demo board features Infineon's 60GHz XENSIV™ radar sensor BGT60TR13C. The BGT60TR13C MMIC comes with integrated antennas and is equipped with one transmitting and three receiving antennas. A L-shaped antenna array ensures horizontal and as well as vertical angular measurement. Thanks to its small form factor and low power consumption, BGT60TR13C MMIC brings innovative, intuitive sensing capabilities to many applications. Based on the developed algorithm the MMIC can serve established as well as new applications and use cases without intruding on privacy, such as presence detection, segmentation/tracking, gesture/vital sensing as well as material classification. Please be aware that the algorithm to serve these use cases needs to be developed separately in cooperation with partners/signal processing experts.
To explore the feature & benefits of this radar sensor, we offer the BGT60TR13C demo board. This demo board consists of a BGT60TR13C shield as well as a radar baseboard.
Demoboard consisting of radar baseboard and BGT60TR13C shield
The radar baseboard is a 40.64 mm x 25.4 mm printed circuit board (PCB). Its main purpose is to provide a generic sensor interface for BGT60TR13C MMIC. The central microcontroller unit (MCU) can perform radar data processing or forward the sensor data to a USB interface or an Arduino MKR interface.
The BGT60TR13C shield presents a minimized form factor of 17 x 12.7 mm² and comes with an integrated BGT60TR13C Antenna-in-Package (AIP) radar chip of 6.5 x 5.0 x 0.85 mm³. Moreover, the shield contains a digital interface for configuration and transfer of the acquired radar data to a microcontroller board. The shield is optimized for fast prototyping designs and system integrations as well as initial product feature evaluations. In addition, it offers developers the flexibility to choose their own platform depending on their preferred use cases.
Several benefits come along with the BGT60TR13C demoboard:
Flexible platform selection
Variable connector options, and option to solder onto other PCBs
Highly flexible configuration on FMCW modulation
Power consumption can be optimized according to use case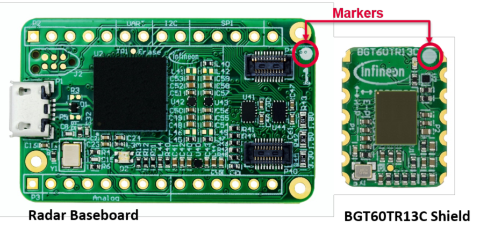 Diagrams