Overview
Infineon customized solutions for a wide-range of applications
An ASIC (Application Specific Integrated Circuit) or CSP (Customer Specific Product) is a custom IC that is designed, planned, developed, and used for a specific purpose, with the mission of being optimized, efficient, and having all the required functionalities and features to be used in a specific application for a single customer. Infineon has been a leading supplier of ASIC chips and all related services for more than 40 years.
These fully customized IC solutions enabled by Infineon's extensive knowledge, experience, and manufacturing network, provides several more advantages for ASIC manufacturers, such as optimized partitioning, IP protection, trusted Infineon quality and proven supply guarantee.
Already have an idea or a project you would like to share with Infineon? For customized solutions please contact us.

Custom ASIC chips - efficiency, expertise, and experience from start to finish
The journey begins with a focus on feasibility and early concept where we match your needs with our deep system knowledge and ASIC developing expertise in building world-class industry-leading semiconductors, ensuring we can successfully implement your requirements.
Customer is always in focus and Infineon targets long-term relationships between us as ASIC supplier and manufacturer and you as our valued customer. We do not want to build just one ASIC for you. We commit, we partner, we innovate, we perform.
We offer multiple different working and business models which can be tailored explicitly to meet customer needs. If you have no ASIC semiconductor design team and lack the capabilities to develop this type of custom IC, we can offer a full turnkey ASIC design solution. If you have an experienced design team and want to contribute significantly during the development of your ASIC design, even with your own IP, we can select a customer-centric working model to suit you.
We have 56 R&D locations worldwide with competent ASIC customer and design service centers for various applications. Click here to see the R&D locations.
Working with Infineon from design through to delivery
Infineon as a market leader in customized solutions believes innovation comes through collaboration and exploring new paths. Working closely with our customers, understanding their needs, and combining with our cutting edge solutions, we know there is always a benefit for every customer.
Whether the challenge is related to IP, BOM Constraints, or simply requiring higher integration, an ASIC can be the solution. We have access to a huge library of IP which can be used as building blocks for new ASICs.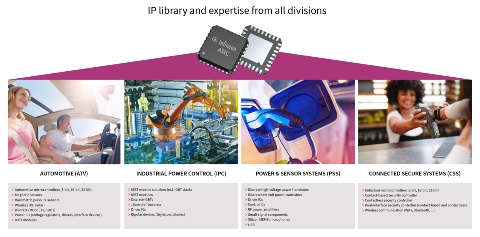 Whether it's digital, analog, mixed-signal ASICs, an embedded processor, or integrated sensors - we have the experience and product know-how.
Being one of the largest ASIC semiconductor companies, we also have a huge library of IPs. We can integrate almost anything into your chip from the vast variety of our sensors, discrete devices, drivers and much more.
If the challenge is related to protect your IP, reduced system costs, higher performance, or simply the need for higher integration, an ASIC can be the solution.
Applications
Infineon ASIC's or Customised solutions can be used in a wide range of applications. See below only a small representation of such applications supported.