12V pumps and fans motor control
Overview
Cost and space-optimized, efficient and high-performance automotive motor control solutions
The market for pumps & fans is moving strongly towards small, mechatronic BLDC motor drive solutions, which require cost-and-system-optimized products and are able to withstand high temperatures.
Within that context, Infineon`s portfolio of MOTIX™ Embedded Power System-on-Chip motor drivers, Automotive MOSFET and Sensor portfolio is the right choice and state-of-the-art market integrated solution.
Such integrated greatly reduce the PCB size compared to other market alternatives and make them the ideal solution for small, compact designs.
To reduce your design-in effort, Infineon offers software and hardware compatible devices for both DC and BLDC applications, providing you a platform solution that is optimized from start to finish.
Alternatively, if you require a solution for BLDC motor control applications which offer more computing power, AUTOSAR and embedded security functions (HSM, dual flash bank for OTA), we offer the TRAVEO™ II CYT2B6/ CYT2B7 microcontrollers with MOTIX™ BLDC Motor System IC TLE9563-3QX or TLE9564QX as a U-chip solution. For brushed DC (unidirectional) motor control, our recommended solution is a MOTIX™single half-bridge NovalithIC™ with complementary standalone MCUs.
Automotive pumps & fans are key components in various automotive applications - independent of the drivetrain technology.
One of the major driving forces in the automotive industry has been the electrification of the powertrain and within this context the electrification of small auxiliaries, such as any kind of pumps or fans.
For instance, coolant pumps & cooling fans are required for the cooling of the internal combustion engine, traction motors, batteries or fuel cells.
Another example is the HVAC blower which is a key element in the air conditioning system to ensure that the airflow reaches the passenger with the desired temperature at minimum noise.
Moreover, pumps are used as well for lubrication or actuation of hybrid transmissions (transmission oil pump) and for reliable operation of the brake booster (vacuum pump).
Products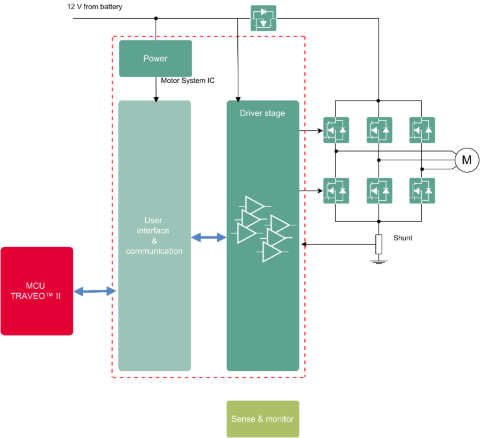 The TRAVEO™ II Entry MCU family is designed for automotive body electronics applications and offers cutting-edge performance, safety, and security features. With processing power and network connectivity built into a single Arm® Cortex®- M4F, this family of microcontrollers has enhanced performance up to 1500 DMIPS. This family also provides the scalability across memory size and pin count and the IP compatibility enable customers to design and develop their system with a single-platform MCU solution. TRAVEO™ II MCUs come with optimized software platform that is available with AUTOSAR MCAL (Microcontroller Abstraction Layer) and HSM Performance Library.
The TRAVEO™ II Entry MCU family offers cutting-edge features like dual-bank flash support for SOTA, embedded HSM and advanced timer units for motor control.
TRAVEO™ II and our MOTIX™ BLDC Motor System IC are the ideal solution when require more processing power, safety and security features as with MOTIX™ Embedded Power while not compromising too much on the overall integration level.
Our TLE956x is the first solution in the market with integrated bridge drivers, power supply and CAN FD / LIN communication interface significantly reducing the required board space and amount of component counts. The products use a patented concept of adaptive MOSFET gate drive. This multi-stage slew rate control enables EMC tuning via SPI, including adjusting slew rate with independence from dead-time and turn on/off delays. Self-adaption of external MOSFET switching allows the balancing of power dissipation vs. EMC performance. This combined with overtemperature protection features such as prewarning and individual thermal shutdown, diagnostic and supervision functions (e.g. fail-safe output, watchdog, fail-safe operating mode and short-circuit protection) embedded within the TLE956x to optimize the power dissipation and thus temperature for use in fuel pump applications.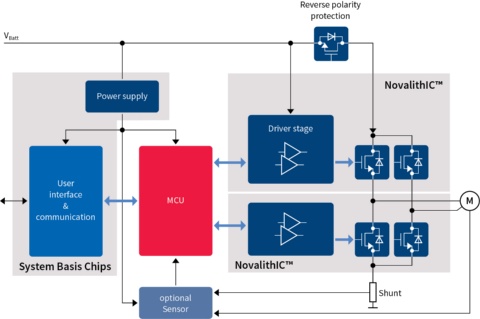 The fuel pump ECU is generally placed outside the fuel tank, while the pump itself is located within. This results in long wires between the ECU and motor, which calls for fast switching speeds to minimize power dissipation. Furthermore, ECU cooling presents its own design challenges: Fuel pump runs continuously and the ECU is often positioned below the rear seat, where it has limited cooling capabilities.
Our integrated high-current NovalithIC™ half-bridge ICs help optimize the power spread and cooling in fuel pump applications. The "worst-case" switching times are specified in the datasheet, allowing you to minimize the switching spread in relation to a discrete MOSFET in particular. The integrated NovalithIC™ half-bridge requires only one single cooling area, which serves both high-side and low-side current switching. Furthermore, NovalithIC™ comes with overtemperature shutdown and latch behavior to protect the MOSFETs thermally. Thanks to the thermal feedback, NovalithIC™ also enhances switching speeds for lower switching losses.
If you want the flexibility discrete solutions offer, you will find the exact components you are looking for in our one-stop-shop of microcontrollers, sensors, SBCs, and MOSFET drivers.
Reference designs
Embedded Power IC

TLE9879QXW40

The TLE9879QXW40 is a single chip 3-phase motor driver that integrates the Arm® Cortex®-M3 core along with LIN transceiver, bridge driver and power supply, supporting advanced motor control algorithms such as sensorless field-oriented control.
OptiMOS™-6 MOSFET

IAUA250N04S6N007

IAUA250N04S6N007 is an OptiMOS™-6 40V Automotive MOSFET in high-power leadless sTOLL package, providing higher current capability in smaller form factor of 7x8 mm².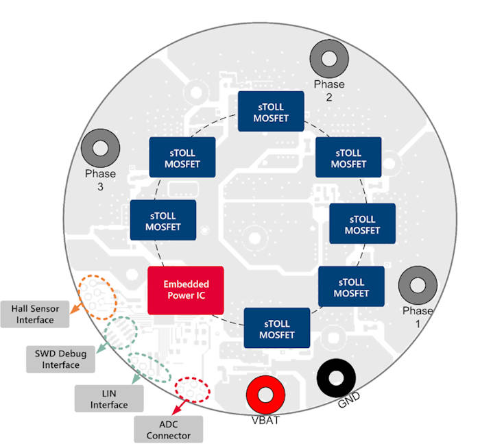 The reference design targets engine cooling fan applications and it is capable to drive 12V BLDC motors up to 1 kW. It uses the TLE9879QXW40 (Embedded Power IC, System-on-Chip (SoC)) and the IAUA250N04S6N007 (OptiMOS™-6 40V MOSFET) as main devices. The reference design offers minimal BOM and reduced PCB size. Furthermore, it is optimized in terms of EMC and thermal performance. It includes layout and schematic files, along with comprehensive support documents including EMC measurements, thermal analysis and a detailed board description.
For more detailed information, please visit our reference design webpage.
The reference design targets auxiliary water pump application and it is capable to drive 12V BLDC motors up to 140W. It features:
The reference design offers minimal BOM and reduced PCB size. Furthermore, it is optimized in terms of EMC and thermal performance. It includes comprehensive support material including layout and schematic files (Altium), EMC tests, thermal analysis and detailed documentation.
Accelerate your development process and go to market faster with our auxiliary water pump reference design.
For more detailed information, please visit our water pump reference design webpage.