4. The heartbeat and the nerve center of the IoT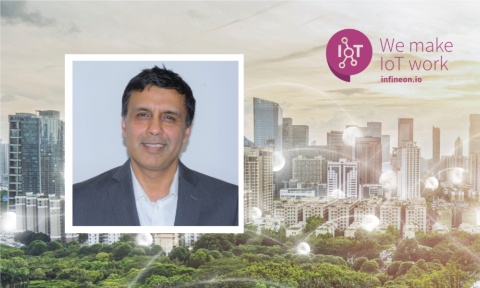 The need of "staying connected and being online" changed in the last month from being perceived as a luxury problem to a basic need. In times of social distancing digitalization brings people together – with smart IoT devices. In this episode we will talk with Vikram Gupta, Senior Vice President of Infineon's IoT Compute and Wireless Business Unit about the heartbeat and the nerve center of the IoT - meaning:
Reliable and seamless connectivity solutions
Microcontrollers for the IoT
More information about connectivity solutions and microcontroller that make the IoT work.
Transcript
Guest: Vikram Gupta
Date of publication: 31 May 2021

Moderator:
The potential of the Internet of Things is well known. But how do we actually implement it? How can people and companies benefit from it? In this podcast, we meet experts from infineon, partners and customers every two weeks who tell us how it can work and what it takes to Make IoT work.
My name is Thomas Reinhardt, I am your host, and I am excited to have this great opportunity sharing this podcast with all of you.
The need of "staying connected and being online" changed in the last month from being perceived as a luxury problem to a basic need. In times of social distancing digitalization brings people together – with smart IoT devices. In this episode we will talk about the heartbeat and the nerve center of the IoT - meaning: reliable and seamless connectivity technologies and microcontrollers for IoT solutions. Therefore, I am pleased to welcome Vikram Gupta, Senior Vice President of Infineon's IoT Compute and Wireless Business Unit.
Welcome Vikram, it's a pleasure having you as guest today.
Gupta:
Hi Thomas. The pleasure is mine. Thanks for inviting me.
Moderator:
Let's start with some rather top level question. In your opinion, what is a key trend that is currently shaping the Internet of Things like no other.
Gupta:
The number of connected devices keeps going up as consumers and enterprises want more IoT devices that bring tangible value or bring more convenience. As we look ahead, more capable smart devices are going to be available shaped by some key trends.

First key trend is the combination of AI and IoT at the edge, known as the Artificial Intelligence of Things (AIoT), which provides machine learning capabilities in connected devices. Many of these intelligent devices will consume lower power and be even more useful to the consumer or the enterprise.

Second, multiple connectivity standards are evolving to address specific use cases to enable smart devices to connect to the cloud or communicate with each other in various situations. Among these various standards, the main growth continues to be in Wi-Fi and Bluetooth connected products as they are the most widespread standards in hosts such as smartphones or laptops. These standards are also evolving to enable novel use cases.
Moderator:
Connectivity standards are key to keep people and devices connected. That's right. You also mentioned IoT and AI capabilities moving to the edge. Lately, there have been a lot of discussions about edge computing. In your opinion what is needed for edge computing? Or to formulate it differently what made this development possible?
Gupta:
In the early days of the IoT, smart devices collected data and communicated to the cloud where all the processing was done. Now, edge IoT devices have evolved to have more processing capability while consuming lower power. This means that compute load can be partitioned between cloud and the edge. Doing compute at the edge allows for lower latency for certain actions to be performed by the smart device and lower power consumption. These devices will be able to learn and adapt their functionality which would also lead to a better user experience.
There are also security benefits and more privacy of your data with edge compute. With the appropriate sensors and incorporating AI/ML at the edge, you start making the IOT devices more useful.
An example of AIoT is a smart thermostat. In the future, we see it becoming "smarter" through running machine learning on the thermostat itself. The thermostat can sense the environment – for example, sunlight heating across time, number of people or animals in the room. The thermostat can then optimize comfort – say, temperature or humidity - based on this learning. Also, people can interact with the thermostat in frictionless way through voice commands that are processed locally, the thermostat can recognize users based on image or voice recognition.
An interesting development in this area has been blurring of the lines between performance capabilities of MPU and MCUs. High performance MCUs can deliver high processing capability at a much lower cost than MPU's. We're excited about this development here at Infineon as it helps bring this technology to the market on a wide scale for IoT devices.
Moderator:
I can see that. Thank you for the example with the thermostat. Having machine learning right at the edge device, well that is really something beneficial for all of us. However, to make this possible, or better, to make this work, what are the benefits of Infineon's products that we provide our customers?
Gupta:
Infineon's MCU portfolio covers wide range of applications. We have market leading PSoCTM products for capacitive sensing. We also have low power PSoC6 products for IoT applications such as wearables and smart locks. We have MCUs for industrial applications which deliver robust performance. Moving forward, we're excited about our future high performance MCU offerings in the IoT space. We are investing in enabling ML on our MCU's now and in the future. We believe in innovating with TinyML which is about how do you run ML effectively on lower power microcontrollers and actually provide ML at a cost point that can scale

We recently released our software development environment ModusToolboxTM ML which allows our customers using Infineon PSoC MCU's to enable ML workloads on those devices.

So – you can see that Infineon is providing flexible, easy-to-use tools and solutions for creating smart devices of the future.
Infineon's compute portfolio combined with our connectivity, power and sensor products means that we can be one-stop-shop for IoT solutions.
Moderator:
Let's talk about connectivity a bit. I mean, the IoT is still all about every thing getting connected, right? That leads me to the following question: Vikram, what are the typical connectivity technologies we see in the IoT?
Gupta:
You are right, Thomas. Connectivity opens a system to the digital world; it gives the system the ability to communicate. According to Strategy analytics, there have been 22 billion devices connected to the internet by end of 2018. And this number will grow to nearly 40 billion by 2024.
You see, there are several different technologies for connectivity. But let's focus on the two most common ones: Wi-Fi and Bluetooth. These connectivity technologies are very widely deployed already and we feel that they will continue to be the technologies of preference for connecting IoT devices to the cloud. There are other technologies such as cellular IoT which work for certain applications deployed in remote locations where you can only access cellular network.
Moderator:
Lately, more and more products are equipped with the new Wi-Fi 6 standard. What is special or better new about Wi-Fi 6 compared to older standard? And what about Bluetooth?
Gupta:
Let's start with Wi-Fi. Wi-Fi 6 – the latest Wi-Fi standard - enables longer range, dense deployment of IoT devices, lower latency and power and better interference mitigation between Wi-fi networks. It also offers better outdoor performance. All of these features improve user experience for IoT devices. There is also Wi-Fi 6E, which opens up new spectrum in the 6Ghz band as the existing 2.4 and 5 Ghz bands are getting crowded. Think of Wi-Fi 6E as a brand new autobahn where cars with only new engines can get on.
For Bluetooth, version 5.2 allows for Low energy (LE) Audio with richer user cases such as broadcast and wireless headset. The next version after that – version 6.0 - has High Accuracy secure ranging feature that allows 30cm of location accuracy. This will open new applications such as passive keyless entry for the automotive market and asset tracking with more accuracy.
We are very active in these connectivity standards and continue to work with industry partners and innovate on our own. Products can be either Wi-Fi and BT combos or you can just get BT discrete products to add to customers' application.
It is important to point out that Infineon's AIROC™ Wi-Fi 6/6E Bluetooth combo solutions go above and beyond the standard requirements to elevate user experience with advanced wireless technology and architectural innovations. Some of the enhancements include:
Doubling the wireless coverage range compared to Wi-Fi 5 and Wi-Fi 4
40 percent more coverage than typical Wi-Fi 6/6E solutions
Over 20 percent power savings, enabling longer battery life
Similarly, with AIROC Bluetooth products, we offer enhancements over the standards on features and range. Some examples are 2x audio range when compared to standard BT5.2 solution, and system solutions for more accurate and secure location determination when compared to BT6.0 standard. With these new AIROC™ Wi-Fi 6/6E and Bluetooth® 5.2 products, we are responding to consumers' demand for secured and convenient wireless connectivity and helping to reduce congestion of home networks.
Moderator:
With this whole range of products: What do IoT device developers need to consider when looking for the right solution for them?
Gupta:
From a developers' perspective, ease-of-use and ability to build solutions quickly matters a lot. Here at Infineon, we help developers by providing both the inspiration and all of the building blocks necessary to create solutions using a variety of our products.
Our IoT developer zone is a great source of information about projects done by developers, Infineon partners and Infineon employees. Our ModusToolbox™ software and tools allow engineers to rapidly build IoT applications with Infineon MCUs. It covers applications from embedded sense and control to wireless and cloud-connected systems using our MCU's and AIROC wireless products.
Moderator:
Do you have a concrete design in mind, where you saw the several IoT building blocks been integrated?
Gupta:
A good example is that of a smart air conditioner offering that provides solutions for both connectivity and motor control subsystems. For the connectivity sub-system, our PSoC microcontrollers and AIROC Wi-Fi/Bluetooth combinations enable users to control the air conditioner through their phones. For the fan and compressor motor control subsystem, a PSoC microcontroller and integrated power modules provide the complete solution. The possibilities, as you can see, are endless.
Moderator:
That is, how we make IoT work.
Thank you very much. This brings us to the end of this episode. I am really grateful for the precious insights you gave. Thank you very much, Vikram.

Dear listeners, for more information, please visit infineon.io. We will publish the next episode soon. Thank you very much. Take care and until the next time.