Episode 1: Welcome to Infineon's world of IoT – and to our new #MakeIoTwork Podcast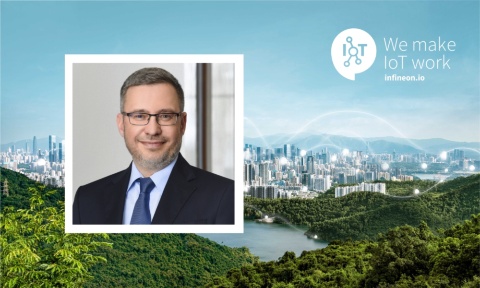 Our first guest is Thomas Rosteck, who is heading Infineon's division Connected Secure Systems. He will introduce us to the essential building blocks that it takes to make the IoT work and therefore answer the following three questions:
What is new in the IoT? Meaning what has changed lately?
What are the challenges that companies – independent of being big players or start-ups – face when addressing the IoT with their business?
How can we as a semiconductor company support companies to leverage the potential arising from the Internet of Things.
Transcript
Guest: Thomas Rosteck
Date of publication: 14 April 2021
Moderator:
Digitization is currently experiencing an unimagined worldwide push. Connected devices are now part of many people's everyday lives - both in professional and private environments. The Internet of Things provides the technological basis for exploiting the full potential of digitization.
The potential of IoT is well known and undisputed. But how do we actually implement it? How can people and companies benefit from it? In this podcast, I meet with experts from Infineon, partners and customers and discuss with them how we can make IoT work.
My name is Thomas Reinhardt, I am your host, and I am excited to have this great opportunity sharing this podcast with all of you.
Today I have Thomas Rosteck with me. He is heading Infineon's division Connected Secure Systems. And we will have discussion on the essential building blocks that it takes to make the IoT work.
Hello Thomas, great to have you for this first episode of our new podcast.
Guest:
Hi Thomas. Thanks for having me invited.
Moderator:
Some of our listeners might ask themselves, why we talk about the IoT today. And they might be right, I mean, the term came up already quite a while ago. From your point of view, what is different than some years ago? And, why shall we talk about IoT?
Guest:
The IoT is reaching its breakthrough point as technologies and components work together more seamlessly. The infrastructure made huge progress to enable real-time communications – 5G is a key word here.
However, the answer to that rather simple question is still not easy. Therefore, I would say, that we talk about the following three topics today:
• What is new in the IoT? Meaning what has changed lately?
• What are the challenges that companies – independent of being big players or start-ups – face when addressing the IoT with their business?
• And last, but not least, how can we as a semiconductor company support companies to leverage the potential arising from the Internet of Things.
Moderator:
That sounds really good. So, let's start. And it's always good to start with numbers: According to Gartner there will be 25bn connected devices by the end of 2021. Which means that already today, in average we have 3 connected devices per person - and we all know that is just the beginning.
So in your opinion, what has changed over the last years? Why do we see this increase in connected devices?
Guest:
Until some years ago IoT devices have mainly been computers and smartphones. Lately new product categories arose such as Smart Speakers or Smart Home devices. And from my perspective this reflects the major change. We see a development from the device itself to user centricity. It is about the benefit a device can create for its user to make his or her life easier.
I mean, as you said, the IoT connects billions of machines and devices worldwide – each of them equipped with powerful electronics including sensors, wireless connectivity and software. What used to require a multitude of human efforts and industrial machinery can now be achieved by the smallest devices, which autonomously process information, make decisions and set chains of action in motion.
Moderator:
Do you think this pandemic we face has an influence on the development?
Guest:
Yes. Absolutely. The pandemic gave a push to digitization in all areas of live.
However, the development started earlier. For example, with the expansion of the 5G infrastructure, we see a mission critical development to enable applications that require real-time communications, such as smart cars and smart factories.
But also standardization is an important lever to make IoT a success. For a long time device manufacturers and service providers developed their proprietary solutions. However, the global connectivity of billions of devices requires a certain standardization. In the Smart Home area, Chip – connected home over IP is a good example for this: The industry-wide "Connected Home over IP" standards is initiated by the Zigbee Alliance and aims at creating a fully interoperable smart home ecosystem spanning all the different companies and smart home devices. As a result, consumers should be able to add and control connected devices in a uniform way based on smart home devices that are easy to use, secure and reliable.
Moderator:
Standardization seems to be one major lever to help companies gain some of the share of this very diverse IoT market. From your experience and the exchanges you have with customers and partners, what are their key challenges?
Guest:
First of all we need to differentiate here. On the one hand, there are devices that have been there way before the IoT came up. Something like an air-conditioning system, my fridge or my barbecue grill. There was no need in the original use case of connecting these devices. But this changed, and with the new possibilities even these devices get connected to provide additional service to consumers and to increase their convenience.
On the other hand, there are devices, IoT devices, whose original use case is built on their connectivity – like wearables or smart speakers. And there so many great innovations and ideas coming up. However, these companies do not only need to manage their own innovative idea, but they also need to take care of all the building blocks of an IoT devices. Meaning, Sense, Compute, Actuate, Connect and Secure. And that is a challenge for them.
Moderator:
Before we talk about the challenges in more depth and how to solve them, do you have a concrete example for those new innovators in mind that you could share?
Guest:
Let's take Get – a new wearable which has been built by Deed, an ambitious and innovative startup team.
Referring to what I said before, Deed is aiming to improve usability and also to help to reduce your screen time, by using a combination of bone conduction technology and gesture recognition. You have to imagine, you just have to put your finger at your ear to do a phone call instead of using an ear bud. The wristband also allows completely secured contactless payments using NFC technology and multimodal biometric identification and authorization for each transaction. Credit card details are safely stored in an Infineon security chip inside of your wristband and the wristband has a lot of other features, such as home control, fitness & biometrics or fingerprint authentication.
The combination of all these functions make it an amazing and helpful tool for the user.
Moderator:
Wow, listening to social and mail notifications, audio and text messages and also answer phone calls simply by bringing your finger to your ear; that's an awesome innovation. But how come that a company with a good idea and but no deep know-how in let´s say connectivity and security can bring this idea to market in such a short time?
Guest:
It is inevitable that certain building blocks are needed for every IoT device. Semiconductors make devices and machines smart, secure and energy-efficient.
Sensors capture environmental information and convert it into digital data. Microcontrollers process this data and generate control signals. Actuators convert the control signals into actions. Connectivity solutions connect the devices to each other and to the cloud. Security solutions protect data transmission and ensure the integrity of the devices and networks involved.
This sounds complex – and in fact it is. Therefore, especially start-up companies with innovative ideas need semiconductor partners include their technological competence into components and modules that are easy to use. And we do not only talk about hardware here, it is also about software and certifications.
We call that Instant IoT. As companies can focus on their design and go-to-market activities, while relying on excellent semiconductor solutions that are easy to integrate. They can create features in their IoT device that make a difference. For themselves and for their customers.
Moderator:
You only talk about start-ups. What about established companies?
Rosteck:
Of course, also established players benefit from this. But differently. They can save development efforts and reduce their time to market.
Moderator:
I see. You used a term that haven't heard before – but it creates a great picture in my head. Instant IoT. Can you explain to our listeners what you mean with that?
Guest:
We like to call our solutions "instant IoT". Their application is as simple as preparing a cup of instant coffee. Stir it once and you're done!
Through the acquisition of Cypress, we have completed our portfolio of semiconductor components for the IoT. We can now offer all essential components for connected devices and IoT applications from a single source: from sensors and microcontrollers to security components connectivity and power semiconductors and the appropriate software.
Start-ups or established device manufacturers benefit from our system expertise and can quickly bring new products and services to market thanks to the easy-to-integrate chip solutions.
Moderator:
Ease of use and ease of integration seem to be important parts in product design and production. But how can we support even earlier in the product lifecycle? How can we as Infineon empower others to innovate?
Guest:
By giving product developers everything they need to succeed and let them fully concentrate on their products, competencies and value-add, we do give them an incredible time advantage. With easy-to-integrate clearly the development time and the time-to-market is shorted significantly and you get a head-start vs. competition.
So let me give you some examples how we can help to solve the most critical IoT design challenges – and make IoT design simple.
We provide a proven platform. Many of our listeners know the WICED wireless development kit and also the PSoC Creator for the microcontroller development. These two have now be brought together into the Infineon ModusToolbox™ to support you for the rapid, easy development of IoT devices. ModusToolbox™ gives developers a major advantage by providing them with an extensive ecosystem that includes all the tools they could possibly need. It is shaped and inspired by real-world customer requirements and not based on our internal assumptions.
And after the acquisition of Cypress that we closed last year, we are continuing to expand the ModusToolbox™ capabilities with components from Infineon to create an entire system development environment. This will then include the full range of our components, from sensors to security – working seamlessly.
We provide a rich development ecosystem to accelerate IoT delivery. We now cover the entire spectrum, offering perfectly aligned hardware solutions together with software to simplify integration.
Moderator:
Thank you. That have been great insights on latest developments and current requirements we see in the IoT market. With my last question of today's episode I would like to know from you, what are you expecting w.r.t. the future of the IoT?
Guest:
With an increasing amount of devices getting connected and data been gathered, analyzed and transferred, we see new ways in computing. The requirement of having real-time data processing in Smart Buildings, Smart Factories or Smart Cars, where split-second reactions may be essential, we are moving towards the edge environment.
While in the last years, the IoT was characterized by centralized services such as those in the cloud, we now can see a tendency towards distributed systems. The growing data and real-time analysis requirements pushed many IoT architectures towards edge computing, and other distributed approaches. Placing the storage and analysis of data directly at the device – as close as possible to the sensors, pumps, generators, or whatever device crucial for the operation – users have advantages over cloud-based solutions.
We are intensively working on bringing Artificial Intelligence into the edge device, while also working on standardization across IoT devices and ecosystems.
Moderator:
Thank you very much. This brings us to the end of this first episode. Thank you very much for your exciting insights. It was a lot of fun kick-starting our Make IoT Work podcast with you.
Dear listeners, for more information, please visit infineon.io. We will publish the next episode soon. In this second episode we will talk with Steve Hanna about the smart home revolution.
Take care and until the next time. Goodbye.