32-bit XMC1000 Industrial Microcontroller ARM® Cortex®-M0
Überblick
XMC1000 microcontrollers bring together the Arm® Cortex®-M0 core and market proven and differentiating peripherals in a leading-edge 65nm manufacturing process. XMC1000 is the number one choice to bring traditional 8-bit designs to the next level.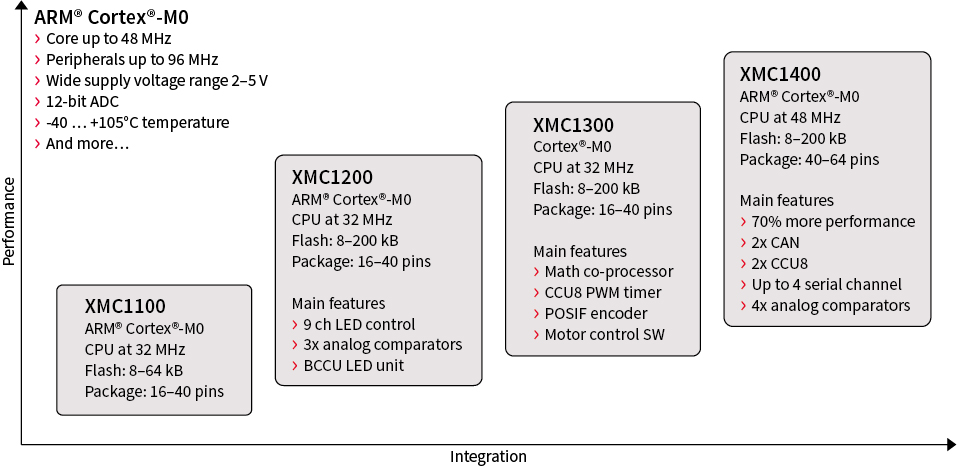 Key features of XMC1000 family:
Arm® Cortex®-M0 core, up to 48MHz and 80 CoreMark
Control peripherals like PWM timers run on up to 96MHz
The MATH co-processor boosts standard Cortex®-M0 computing performance enabling divisions and trigonometric operations like SIN and COS
The BCCU eases digital LED dimming and color control applications
30ns comparators enable AC-DC and low voltage DC-DC SMPS control e.g. up to 4 channel buck converters
The ERU is a programmable hardware interconnect matrix that provides on-chip connectivity for real-time control and offloads the CPU
The CCU PWM-timers feature rich and application oriented configurability like for motor control, SMPS or combustion engine control
Hall sensors and optical encoders can be connected to POSIF, a position interface for motor position control
With a 1Msps 12-bit ADC, XMC1000 microcontrollers are outstanding in their price / performance class
MultiCAN provides connectivity with 2 nodes and 32 message objects
Target applications of XMC1000 family:
Power tool motor control: reduced BOM and small form factor with sensorless FOC control
Connected LED lighting power supplies: value add with multi-channel devices for color control or tunable white and network connectivity (DALI)
eBike motor control: reduced BOM and small form factor with sensorless FOC control
Fan motor control: reduced BOM and small form factor with sensorless FOC control
I/O modules used in automation: connectivity of PLCs sensors and actuators through CAN bus
Small combustion engine controls like in lawn movers or chain saws: improved efficiency and reduced emissions
Watchdogs and Companions: improved system monitoring for predictive maintenance or safety implementation
Innovative, compact and powerful solutions for Wireless Charging
Highlights
32-bit XMC1000 Industrial Microcontroller Arm® Cortex®-M0 product naming
How to unbundle a product number:
Tools & Software
DAVE™ (Version 4) – Development Platform for XMC™ Microcontrollers
Middleware, Libraries, Stacks, File System, GUI
Device support package for XMC™ MCUs and ARM/Keil MDK
CMSIS PACK XMC1000/XMC4000
CMSIS PACK for XMC1000 and XMC4000: includes the full device support for all XMC1000 and XMC4000 derivatives that can be directly installed in Keil MDK or other tool that support this format. The downloaded file is a .pack file. For manual inspections it can be renamed to a . Zip file and unzipped as usual.
Download here
XMC Development Tools Ecosystem and Software
Videos
Microcontroller Mediacenter


Partner
AURIX™ Preferred Design Houses (PDH)
Click here to explore AURIX™ Preferred Design Houses ecosystem