Trapped ion quantum computing
Taking quantum computing to the next level
What is trapped ion quantum computing?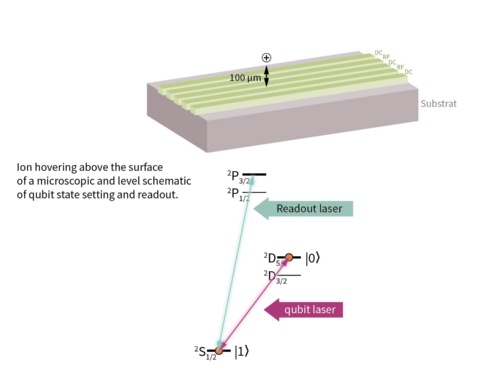 In a trapped ion quantum computer (TIQC) the qubits are implemented using charged atoms in a cryogenic vacuum. The ion, for example Ca+, Ba+ or Be+, is captured with DC and RF fields and manipulated with lasers or microwaves.
The qubit is defined by the electron's quantum-mechanical state: the ground state is defined as a logical 1, the qubit laser or a microwave pulse elevates the electron into an excited state to implement a logical 0.
Then after the calculations or gate operations have been performed, the resulting state of the qubit has to be read. That is done by employing the readout laser to elevate the electron to a higher electron orbit from which it will immediately decay and emit one photon that can be detected. Since the readout laser is tuned to excite the ground state, detected photons indicate that the qubit was a logical 1 before the readout.