Decentralized mirror module
Overview
Decentralized mirror module
The vehicle rear-view mirror today is no longer only a side-mounted, mechanically adjustable mirrored glass in housing but a rather complex application with electronics and an increasing number of functionalities. Most popular design features are e.g. electronic mirror positioning and mirror fold including memory functions, side indicator, blind spot indicator, and mirror heating. To optimize the manifold functions wire harness to the mirror in case of a door module, a decentralized Electronic Control Unit can be mounted into the mirror housing connected via a LIN Bus to the vehicle gateway.
To keep this complexity manageable in terms of space on the PCB but also in terms of power dissipated, the integration of functions became a key factor for the design. Infineon offers dedicated solutions for supply and communication as well as for motor control and LED control with a benefit from low power consumption and low quiescent current:
Products
An additional challenge for the rear-view mirror design is the increasing number of configurable variants depending on the car manufacturer platform strategy. To easier handle, the manifold variants with a single PCB design, the scalability within product families has become necessary. Infineon's Power Switch IC, PROFET™, for example, has the most scalable portfolio of high side switches in the market.
Regarding the design, Decentralized Mirror Module systems require:
A supply and communication interface which can be built discrete (voltage regulator + LIN transceiver) or integrated (SBC)
A set of scalable Single Half-Bridge Switches, Multi Half-Bridges and LED Driver ICs with sense, diagnose and protection functions
A set of scalable single- and multi-channel High-Side and Low-Side Switches with sense, diagnose and protection functions
Training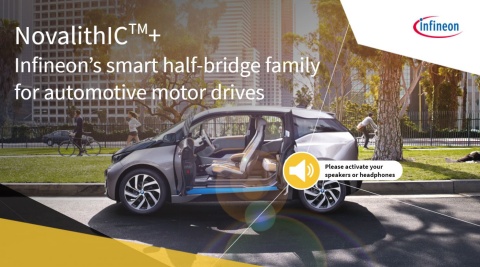 Description:
Understand how NovalithIC™ devices work.
Get to know their main features, applications and portfolio, and identify the specific characteristics of the latest B-T-N-99-x-x devices.