Overview
Please choose a subcategory
Infineon enables automotive security systems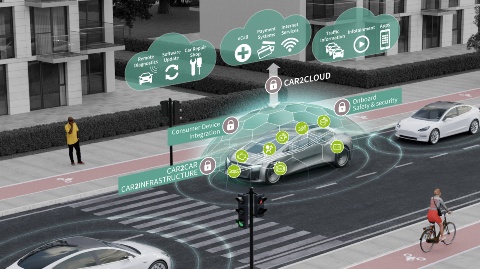 As system complexity increases in cars, so too does the volume of data to be processed and distributed. New payment methods, such as parking fees or road tolls, require a secure flow of transaction data. Infineon can draw on years of expertise in chip card and identification systems to propel automotive data security to the next level.
Where there is light, there is also darkness. The accessibility of a vehicle from outside also significantly increases the risk of hacker attacks. Outside attacks (e.g. via mobile phone, Bluetooth or Wi-Fi) have been discussed and explained in numerous publications. Automakers therefore need to ensure that information is processed securely and protected against external access and manipulation (e.g. car tuning or counterfeit spare parts). Infineon's semiconductor solutions enable the installation of automotive security systems. These kinds of security systems protect fair competition in the global market, assets, personal data and, last but not least, the lives and limbs of the users on the road.
Infineon's product development process now certified to ISO/SAE 21434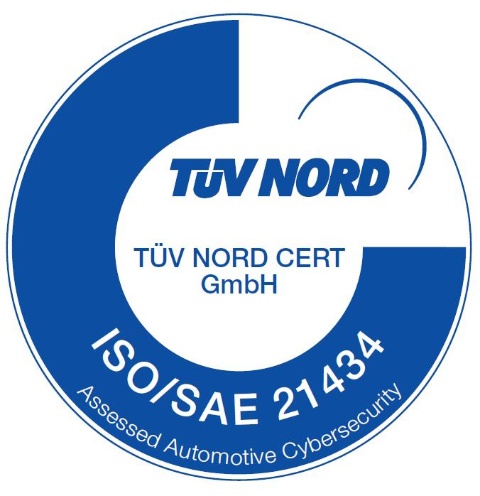 Infineon is the industry's trusted partner for automotive security. TÜV Nord has now certified Infineon's company-wide product development process according to ISO/SAE 21434. The company-wide certification includes:
Cybersecurity management
Continuous cybersecurity activities (e.g. monitoring, risk assessment, vulnerability analysis)
Risk assessment methods (e.g. threat identification)
Concept phase (e.g. cybersecurity goals)
Product development phase (e.g. integration and verification)
Post development phase (e.g. cybersecurity incident response)
In addition, Infineon's AURIX™ TC4x microcontroller family features an innovative cybersecurity cluster. TC4x meets the new ISO 21434 security standard and enables your system to meet UNECE WP.29.
Products
Explore our interactive graphic and learn more about our automotive security portfolio
Automotive security portfolio overview

AURIX™ family

Infineon's AURIX™ 32-bit microcontroller family, with its embedded Hardware Security Module (HSM), is a perfect fit for automotive applications, where specific security functionalities are required.

Automotive security portfolio overview

Traveo™ family

The Traveo II family is designed for cars of the future. TraveoTM II for automotive body electronics applications offers cutting-edge performance, safety, and security features.

Automotive security portfolio overview

Semper Secure

Customers rely on connected vehicles, smart factories and systems that depend on our NOR Flash technology to prevent accidents and secure sensitive data. Semper Secure NOR Flash is the Flash you can trust.

Automotive security portfolio overview

SLI76/ 97/37

Our SLI 97 SOLID FLASH™ and SLI 76 families fulfill all security and quality requirements across the complete value chain for embedded SIMs (eUICC) in harsh automotive environments.

Automotive security portfolio overview

OPTIGA™ TPM

The OPTIGA™ TPM SLI 9670 is a quality hardened Trusted Platform Module (TPM) for special use in automotive applications and based on a tamper-resistant secured micro-controller using advanced hardware security technology.
We have the right level of security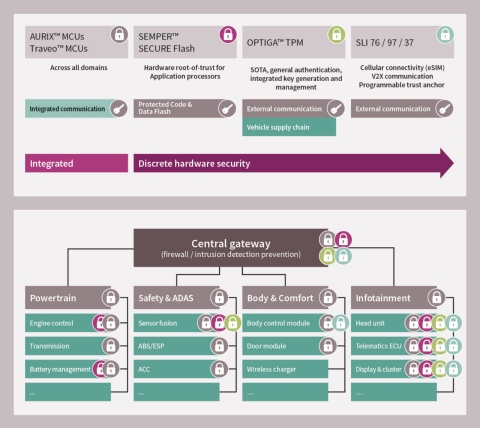 As the global market leader in security microcontrollers for 15 consecutive years and with more than 40 years of experience in the automotive sector, Infineon offers a broad portfolio of cost-effective automotive security solutions. The product range includes hardware components, such as 32-bit microcontrollers with embedded hardware security modules, SIM cards, and secure elements as well as related software packages. This permits the security level and, consequently, the associated cost to be customized precisely to the protection needs of a particular application. Customers benefit from decades of experience in the analysis of threat and attack scenarios by virtue of security certifications, for instance the ISO/IEC 15408 (Common Criteria), and the extensive portfolio of hard- and software patents. Here Infineon consistently relies on proven industry standards, such as AES-128, ECC-256, SHE, EVITA HSM and TPM, to lower the integration effort as well as the risk of OEMs and their tier suppliers.