Überblick
SLC 32 platform spanning payment and ticketing requirements and applications
The SLC 32 platform is designed to reduce complexity and conserve resources while giving our customers a head-start on current market trends. It reduces development effort by accelerating design, approval and lead time cycles.
This security microcontroller family is unique in the market as it covers the entire contactbased, dual-interface and contactless application spectrum for online and offline data authentication (dynamic/combined data authentication; DDA/CDA).
The SLC 32 family's proven security concept builds on a high-speed coprocessor supporting both symmetrical cryptography (with AES and DES) and asymmetrical cryptography (with certified RSA and ECC libraries). Chip security is further enhanced by the AIS 31-compliant Hybrid Random Number Generator, which uses a physical noise source and features built-in cryptographic post-proce
Highlights
Glossary
The SLC32 meets the rising performance demands of today's contactless applications and supports all contactless transmission protocols, including the open CIPURSE™ standard for secured, cost-effective handling of payment and transport applications. The CIPURSE™ standard is non-proprietary, interoperable and capable of supporting multi-functional cards and infrastructure convergence.
SLC32 is furthermore the ideal platform for EMV migrations, for instance, especially where outstanding contactless performance is required. The combination of SOLID FLASH™ and contactless technology makes it a perfect match for Java-based implementations.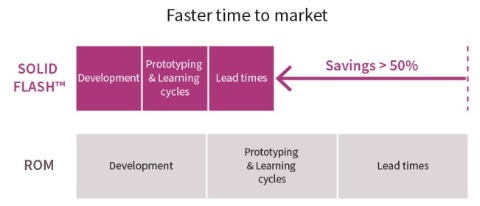 SLC32 features Infineon's SOLID FLASH™ technology. This future-proof memory concept meets growing demand for increasingly differentiated types and levels of functionality in smart cards. It combines the advantages of flexible non-volatile memory (NVM) with a sophisticated security concept. Compared with ROM-based solutions, this smart design accelerates time-to-market by more than 50%. Furthermore, it significantly reduces planning and logistics complexity.
A powerful 16-bit core
State-of-the-art 65nm technology
A common footprint to maximize synergies
SOLID FLASH™ for record time-to-market
Innovative Coil on Module technology featuring inductive coupling