Automotive IGBT & CoolSiC™ MOSFET Modules
综述
Automotive IGBT & CoolSiC™ MOSFET Modules 子类别
Automotive power modules based on leading Si IGBT and CoolSiC™  technologies designed for Hybrid electric and full Electric Vehicle (xEV) applications
Automotive power modules are an essential component for high voltage power conversion in hybrid and electric vehicles. Infineon offers the broadest portfolio of automotive power modules for a range of applications: traction inverter (to convert the DC from the high voltage battery to AC for the electric motors), on-board battery charger, auxiliary inverters, HV/LV DC-DC converter and specific Fuel-Cell Electric Vehicles (FCEV) applications such as the fuel cell air compressor and DC-DC boost converter.
Our automotive power modules are based on Infineon's leading Si IGBT & CoolSiC™ technologies. Our modules offer high voltage performance, fast switching and low switching losses to maximize efficiency, as well as a high level of integration in compact modules. Our automotive power modules are AQG 324 qualified and offer high mechanical robustness and ease-of-use in design and manufacturing.
While Si IGBT remains the dominating technology in the automotive power module market, the strongly growing SiC MOSFET-based solutions complement our Si IGBT offering. Our CoolSiC™ MOSFET power modules offer a variety of benefits including lower losses and higher switching frequencies for higher efficiency, longer driving ranges or overall lower system cost. They provide higher power density and extend our power modules to even higher power and lower overall system cost.
Our HybridPACK™ and EasyPACK™ line offer five different package families (HybridPACK™ Drive G1 & G2, HybridPACK™ DSC, EasyPACK™, HybridPACK™ 1& DC6i and HybridPACK™ 2), covering a wide range of voltage classes (650-1200V) and power classes in Si & SiC technologies. Our broad portfolio of halfbridge and B6-bridge offers our customers the needed choice and flexibility to achieve design goals. Power device selection can be simplified and your design iterations can be accelerated by using Infieon's Online Power Simulation Platform (IPOSIM).
Infineon was a pioneer in developing and producing power semiconductors and modules which are optimized for the needs of electric vehicles. With nearly 20 years of experience, more than 20 Million shipped power modules and numerous cars worldwide using Infineon's power modules, we are the power module partner to rely on for electrifying cars.
亮点
Our evaluation kits are designed to support customers in their first steps in designing applications with our power modules. All of our evaluation kits are open designs. Therefore, they can be taken as a design reference for applications utilizing HybridPACK™ or EasyPACK™ modules. In addition they can help to test the electrical and thermal performance of our power modules in an example application.
Our main inverter evalution boards enable you to operate basic open loop inverters within a few minutes and without any software or communication to external control units.
Passive three phase inductive loads and simple load tests (DEMO-MODE) can be driven up to the maximum performance of the power modules. The shipping content includes a data source with schematics, layout and bill of material, information on the gate driver board, logic board and interface PCB. For instance,the Evaluation Kit HybridPACK™ Drive is intended to demonstrate the outstanding performance of the latest Infineon IGBT generation EDT2 combined with our latest module package HybridPACK™ Drive. One of many approaches of designing inverters with our flexible molded modules can be found in the Evaluation Kit HybridPACK™ DSC. It implements our HybridPACK™ DSC S1 or S2 and demonstrates the modules double-sided cooling concept resulting in high power density and advanced sensing & diagnostic concepts.
Another supported application which can be demonstrated with our Evaluation Kit for EasyPACK™ is the HV/LV DC/DC Converter. The evaluation board – and our highly efficient EasyPACK™ itself – help to achieve less charging losses, increased battery voltage and charging speed.
设计支持

Samples can be ordered online once productive samples are available
For pre-productive samples, please contact your distributor or Infineon sales office for support. Pre-productive samples are not suitable for use in vehicles on the road or for qualification purposes!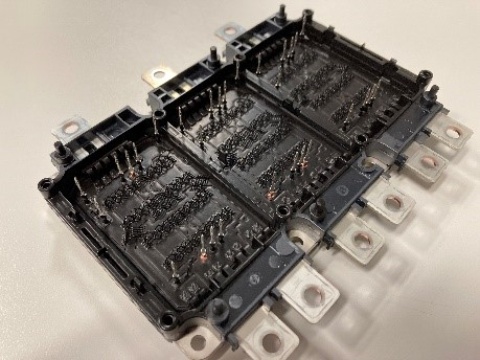 Black samples
–Use case: lab measurement
–IR camera can measure chip temperature under load conditions
–Lead time: 10 weeks ~ 6 months


Thermocouple modules
–Use case: lab measurement
–Temperature sensor can measure chip temperature under load conditions
–Lead time: 10 weeks (best case) ~ 6 months


Please contact your distributor or Infneon sales office for ordering special samples



Comment: HybridPACK™ Drive G2, HybridPACK™ DSC and HybridPACK™ DSC CoolSiC™ modules contain an on-chip temperature sensor which can deliver chip temperature data during lab evaluation special samples (black/thermocouple modules) are not required in this case
培训
Get to know Infineon's IPOSIM tool, specifically for an automotive electric vehicle inverter
Discover the steps involved in simulating different parameters and comparing the results of different Infineon products to see which is the best fit for your application
Understand Infineon's purpose in delivering quality above and beyond the standard and find out how we execute that standard in development, qualification, manufacturing and testing
Learn where and how this high-quality standard is reflected and discover our success stories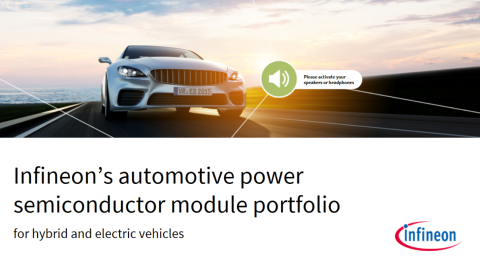 Understand how Infineon's power semiconductor module portfolio is a solution for the main challenges of the electric vehicle industry
Know Infineon's general value drivers as well as recent success stories on the electromobility market