Automotive 12V Smart High-Side Power Switch Power PROFET™ BTS50010-1TAE supporting high Inrush Currents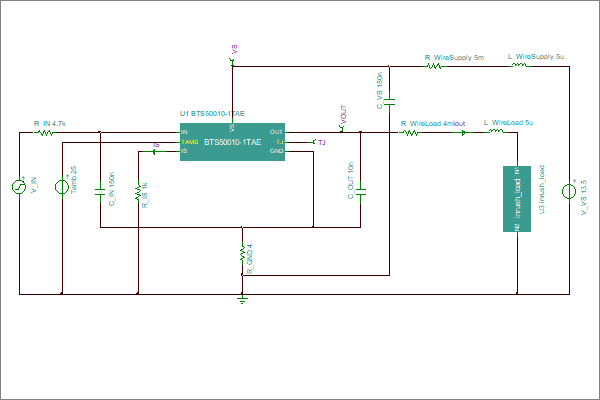 Single Channel Smart High-Side Power Switch BTS50010-1TAE

Change the DC duration by modifying the simulation time:

"Analysis->Transient: Start - End Display"
- Double click on the green window to enter design criteria
- Click on "Run" and Simulate Transient

Thermal Model description:
THERMAL_MODEL=1: P=1W; T=85°C; PCB type: 1s0p 300mm2
THERMAL_MODEL=2: P=1W; T=85°C; PCB type: 1s0p 600mm2
THERMAL_MODEL=3: P=1W; T=85°C; PCB type: 1s0p footprint
THERMAL_MODEL=4: P=1W; T=85°C; PCB type: 2s2p
where: P=power injected in chip; T=ambient temperature

Power PROFET™ BTS50010-1TAE is a smart high-side switch designed to drive
currents up to 40A DC in 12V systems. With a RDS(ON) down to 1.0mΩ, the device
is packaged in a D2PAK (PG-TO263-7). The benchmark energy robustness and
inrush current capability up to 250A supports the requirements of motorcycle and
scooter starters for the engine. BTS50010-1TAE also addresses automotive,
industrial and consumer applications such as lawnmowers or chainsaws as well as
any load with harsh switching demands.

Product info: BTS50010-1TAE
Body Power Application Overview
Other circuits
Smart Switch Finder
Technical Assistance