12 V Automotive LED driver with LITIX™ Power TLD5045EJ step-down converter in PWM mode - transient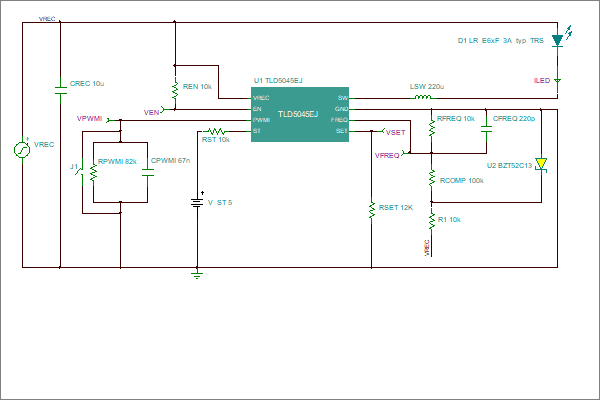 12 V Automotive LED driver with LITIX™ Power TLD5045EJ step-down
converter in PWM mode - transient

"Analysis->Transient: Start - End Display"
- Double click on the green window to enter design criteria
- Click on "Run" and Simulate Transient

The test bench shows the behavior of TLD5045EJ while powering a high-power LED in
PWM mode. The dimming is generated by the internal PWM engine using external RC
network. The PWM engine can be disabled via J1 jumper (one-click on symbol to toggle position).
The output current is set to a peak value of 580 mA via RSET external resistor. Switching
frequency can also be adjusted via external RC network.

Model Application Note
Other circuits
Product info: TLD5045EJ
Technical Assistance
Demo Board: DEMOBOARD TLD5045EJ