24 V Dual Channel Low Side Gate Driver IC EiceDRIVER™ 2ED24427N01F with high current for driving large power switches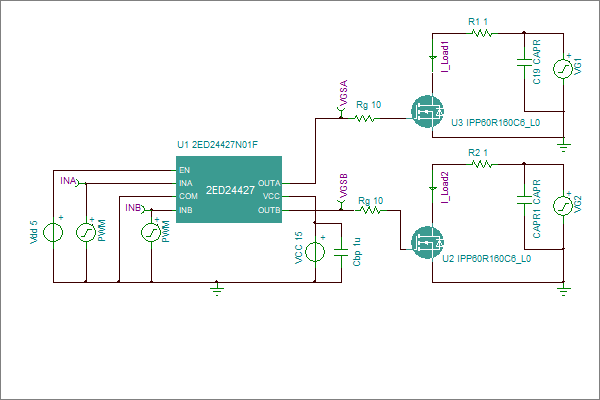 24 V Dual Channel Low Side Gate Driver IC EiceDRIVER™ 2ED24427N01F
with high current for driving large power switches

Model performance :
- Static Electrical Characteristics and Dynamic Electrical Characteristics
are modeled with the typical values from the datasheet.

EiceDRIVER™ 24 V dual-channel low-side non-inverting gate driver for MOSFETs or IGBTs
with typical 10 A source and sink currents in a DSO-8 package with thermally efficient,
exposed power pad. 2ED24427N01F enables higher power and faster switching frequencies
in multiple applications with a reduced PCB footprint and increased reliability by simplifying
high power density system design.

Technical Assistance
Gate Driver
Product Info: IPP60R160C6
Product Info: 2ED24427N01F
Other circuits