Automotive 12V Smart High-Side High Current Power Switch Classic PROFET™ BTS50055-1TMB supporting high Inrush Currents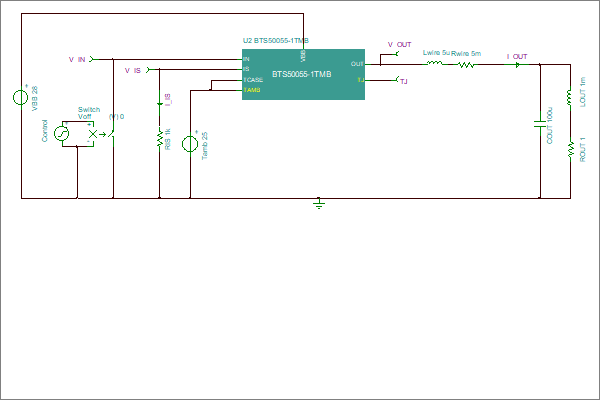 Automotive 12V Smart High-Side High Current Power Switch Classic
PROFET™ BTS50055-1TMB supporting high Inrush Currents

BTS50055-1TMB is a 6mΩ single Smart High-Side Power Switch with high current capabilities
providing sophistiacted protective and diagnostic functions. It is especially designed to drive
loads in harsh automotive environments with high inrush currents.
It replaces electromechanical relays, fuses and discrete circuits.

Input IN has an internal pull-up and activates the power switch in case of short to ground.

- Change simulation time:
"Analysis->Transient: Start - End Display"
- Double click on the green window to enter design criteria
- Click on "Run" and Simulate Transient

Other circuits
Product info: BTS50055-1TMB
Smart Switch Finder
Technical Assistance