12V Automotive Motor Control based on Embedded Power Full Bridge Driver TLE986x/TLE987x - Concept BDRV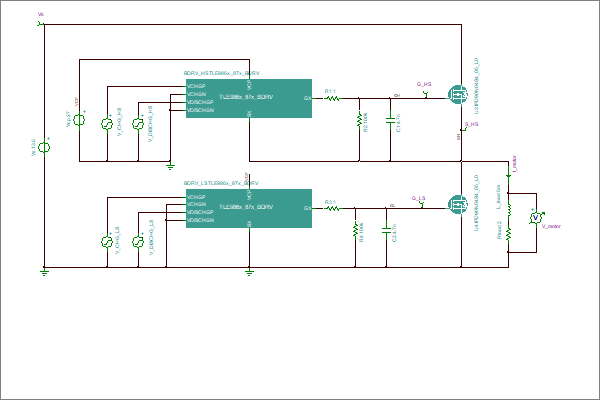 12V Automotive Motor Control based on Embedded Power
Full Bridge Driver TLE986x/TLE987x
Concept Circuit Bridge Driving (BDRV)

Infineon has combined its wealth of experience in motor control drivers for automotive
applications with all the benefits of an industry-standard core. The unique result, our 3rd
Generation Embedded Power IC based on ARM® Cortex®-M cores, addresses a wide
range of smart 3-phase brushless DC motor control applications like fuel pumps,
HVAC fans, engine cooling fans, electrical water pumps. The TLE987x family offers
scalability in terms of flash memory sizes and MCU system clock frequency
supporting a wide range of motor control algorithms, either sensor-based or sensor-less.
It uses the same MCU and peripherals as the TLE986x family, 2-phase driver, enabling
design synergies between DC and BLDC motor control applications.

This testbench shows the driving concept of a simplified motor model ( L_LOAD + R_LOAD) in a
Half-bridge configuration. We can see the load current slowly increasing then reaching
steady state.

INPUT:
V_CHG_HS controls BDRV_HS charging
V_DISCHG_HS controls BDRV_HS discharging.
V_CHG_LS controls BDRV_LS charging
V_DISCHG_LS controls BDRV_LS discharging.
PWM_DEADTIME parameter sets the time between turning OFF the HS and turning ON the LS.

ICHARGE_TRIM and IDISCHARGE_TRIM are used to control register values.
They represent the decimail values of the register fields.
Value range must be between 2 and 31.

VCP is used to set charge pump voltage.

Product info: TLE986x/TLE987x
Evaluation board: TLE986X EVALB_JLINK
Technical Assistance
Other circuits
Evaluation board: TLE9869 EVALKIT
Product info: IPD90N04S4-05