概要
EZ-BT Module Arduino Evaluation Board CYBT-273063-EVAL
The EZ-BT Module Arduino Evaluation Board (CYBT-273063-EVAL) enables you to evaluate and develop applications on the EZ-BT WICED™ Module, CYBT-273063-02. CYBT-273063-EVAL can be used as a standalone evaluation kit or can be combined with Arduino-compatible shields.
The CYBT-273063-02 WICED™ Module is a fully integrated, fully certified, 12.5 mm x 19.0 mm x 1.85 mm, programmable, Bluetooth® Smart Ready module designed to reduce your time to market.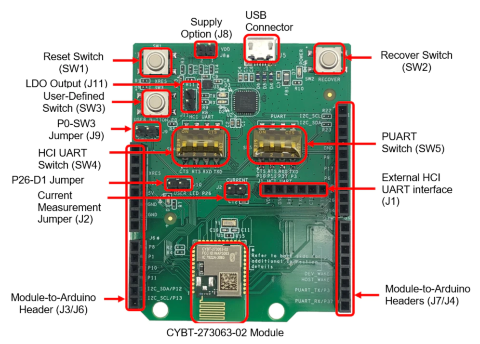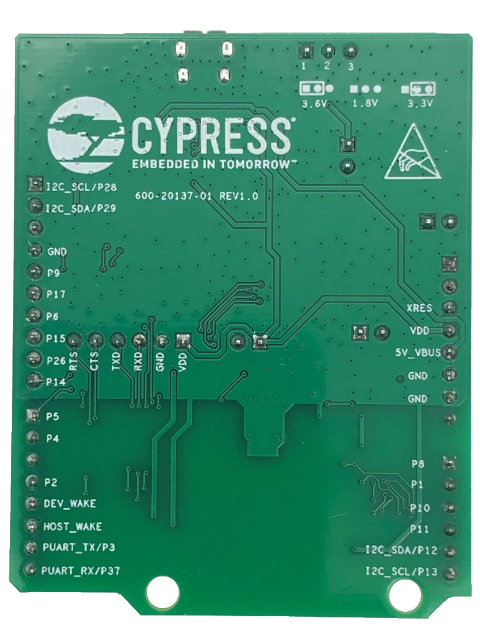 1) Configure the evaluation board headers/switches to the desired settings.
2) Connect the evaluation board to a PC via a USB cable.
3) Open ModusToolbox, and develop, program, and test your application.
Note: Recover the CYBT-273063-EVAL board before programming.
The Arduino-compatible headers (J3/J4/J6/J7) are optional connections, which provide additional I/O connections to the module and allow for other Arduino shields to be used during development.
SW1: Reset switch routed to the XRES connection on the module.
SW2: Recover switch routed to the UART_CTS connection on the module.
SW3: User-defined switch routed to the P0 connection on the module via J9.
SW4: Switch connecting HCI UART connections on the module to the host via USB.
SW5: Switch connecting PUART connections on the module to the host via USB.
J1: Connection for an external interface for direct HCI UART communication.
J2: Used for module power supply current measurement.
J3/J4/J6/J7: Arduino-compatible headers used with an Arduino-compatible shield.
J8: Configures the VDD voltage input to the module as shown in the following table:
| | |
| --- | --- |
| J8 Jumper Configuration | VDD Voltage Level |
| Short 1 & 2 | 3.3V |
| Open | 1.8V |
J9: Connects the P0 pad on the module to SW3.
J10: Connects the P26 pad on the module to LED D1.
J11: Module power supply selection from LDO or external connector.
The EZ-BT CYBT-273063-02 Module supports Bluetooth SIG Mesh, is qualified for the Bluetooth 5.0 speci¬fication, and is certifi¬ed for the 2.4-GHz unlicensed frequency range in USA (FCC), Canada (ISED), Europe (CE), and Japan (MIC).