概要
General Description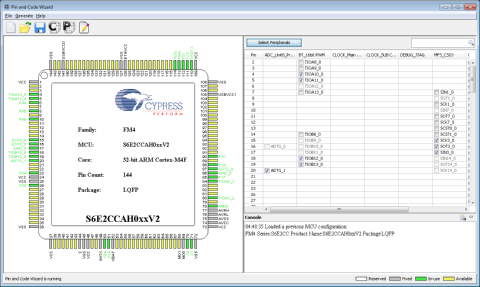 This Pin and Code Wizard is the tool helps to set the IO ports for 32-bit ARM® Cortex® microcontroller, and it has the following features.
After activating the peripherals and GPIOs, which are used, the tool assigns the peripherals to the corresponding pins automatically.
Customize easily the result of Pin assignment by graphical user interface.
Setting easily the port relocation.
The tool outputs the source code according to the Setting of IO port for peripheral library function calls.
Generating projects several IDEs.
The Pin and Code Wizard has the following advantages:
Decrease of the development costs.
Usage of the peripherals at their maximum.
Software
JRE (Java Runtime Environment) 32bit Version 7 or later
OS
Windows7(32bit/64bit) English/Japanese
Windows8(32bit/64bit) English/Japanese
Memory
About 1GB or more (Recommended 2GB or more)
Harddisk
About 1GB free capacity is required for installation
Note: Above conditions do not guarantee all operation.