PSoC™ 4 Capacitive Sensing (CAPSENSE™ Gesture)
概要
General Description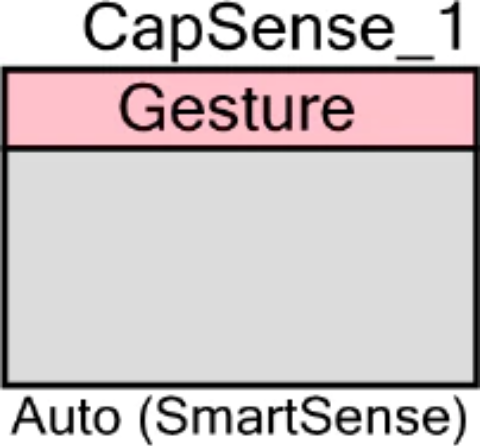 CAPSENSE™ CSD is a versatile and efficient way to measure capacitance and detect finger touches in user interface panel applications such as capacitive touch buttons, sliders, touchpads, trackpad with gestures, touch screens, and proximity sensors. CAPSENSE™ Gesture leverages CAPSENSE™ CSD technology and adds gesture detection capability.
CAPSENSE™ Gesture converts capacitance of row and column electrodes to digital values. The given high level API functions use these raw digital values to determine finger location on a trackpad through interpolation algorithms. In addition it supports multitouch gesture decoding on-chip through simple API function calls.
Note This document refers to PSoC™ 4 devices throughout. References to PSoC™ 4 should be interpreted to mean PSoC™ 4 and PSoC™ 4 BLE (Bluetooth Low Energy) devices. This component also supports the PRoC BLE device.
Support for user-defined combinations of button, linear slider, radial slider, touchpad and proximity capacitive sensors
Support for trackpad with one or two finger gesture
Best-In-Class SNR performance
Superior noise-immunity performance against conducted and radiated external noise
Ultra-low radiated emissions
CAPSENSE™ button support: Overlay thickness of up to 15 mm for glass and 5 mm for plastic
SmartSense™ auto-tuning

Sets and maintains optimal sensor performance during run time
Eliminates manual tuning during development and production

Advanced user interface features for CAPSENSE™ buttons/slider: Water tolerance

Shield electrode support for reliable operation in the presence of water droplets
Guard sensor to prevent false touches under the water or flowing water

Easy to use Application Programming Interface (API) for fast proto-typing
Integrated PC-based GUI for tuning in manual tuning mode (See Using the Tuner GUI section in the datasheet.)