600 V, 0.2 A Three Phase Gate Driver IR2136 IC with enable, fault reporting and over current protection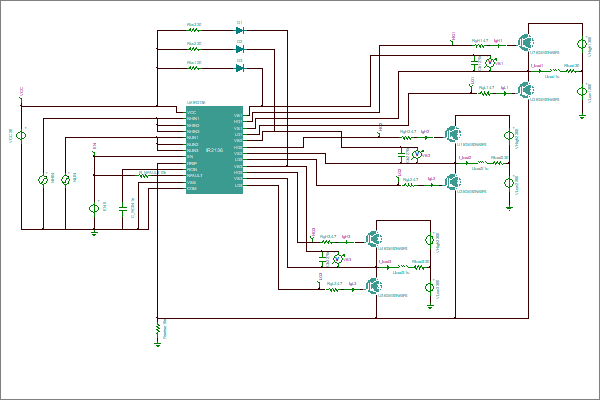 600 V, 0.2 A Three Phase Gate Driver IR2136 IC with enable,
fault reporting and over current protection

The IR2136 are high voltage, high speed power MOSFET and IGBT drivers with three
independent high and low side referenced output channels for 3-phase applications.
Proprietary HVIC technology enables ruggedized monolithic construction. Logic inputs
are compatible with CMOS or LSTTL outputs, down to 3.3 V logic. A current trip function
which terminates all six outputs can be derived from an external current sense resistor.
An enable function is available to terminate all six outputs simultaneously. An open-drain
FAULT signal is provided to indicate that an overcurrent or under voltage shutdown has
occurred. Overcurrent fault conditions are cleared automatically after a delay programmed
externally via an RC network connected to the RCIN input. The output drivers feature a
high pulse current buffer stage designed for minimum driver cross-conduction.
Propagation delays are matched to simplify use in high frequency applications.
The floating channels can be used to drive N-channel power MOSFETs or IGBTs in the
high side configuration which operates up to 600 V.

Model performance :
- Static Electrical Characteristics and Dynamic Electrical Characteristics
are modeled with the typical values from the datasheet.
- Temperature effects are not modeled

The following features have been modeled :
- Switching Characteristics such as propagation delay, peak currents
- Under-voltage lockout

Product Info: IGW50N65F5
Technical Assistance
Other circuits
Gate Driver
Product Info: IR2136