600 V Single High Side Gate Driver IRS25752L with single input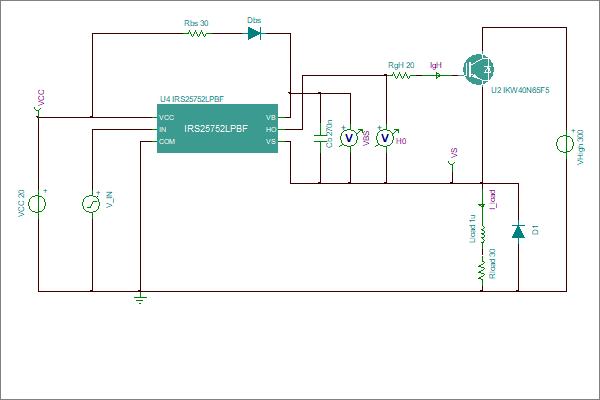 600 V Single High Side Gate Driver IRS25752L with single input

The IRS25752 is a high-side, single-channel gate driver IC with 600V blocking and level
shifting capability. This allows for the gate driver to be connected directly to the gate of a
high-side power MOSFET, while being controlled by the low-side, ground potential
circuitry. The IRS25752 includes a wide VCC supply range, UVLO protection, and excellent
immunity to harsh dv/dt or –VS switching environments. IR's HVIC technology allows
for these functions and features to be realized in a 6-pin SOT-23 package.

Model performance :
- Static Electrical Characteristics and Dynamic Electrical Characteristics
are modeled with the typical values from the datasheet.
- Temperature effects are not modeled

The following features have been modeled :
- Switching Characteristics such as propagation delay, peak currents, rise/fall times
- Under voltage lockout
- Current consumption

Product Info: IRS25752L
Product Info: IKW40N65F5
Technical Assistance
Other circuits
Gate Driver