400 V Half Bridge Converter using Two Single Channel, 2A Galvanic Isolated Gate Driver ICs EiceDRIVER™ 1EDI10I12MH and CoolMOS™ C7 superjunction MOSFET IPA65R095C7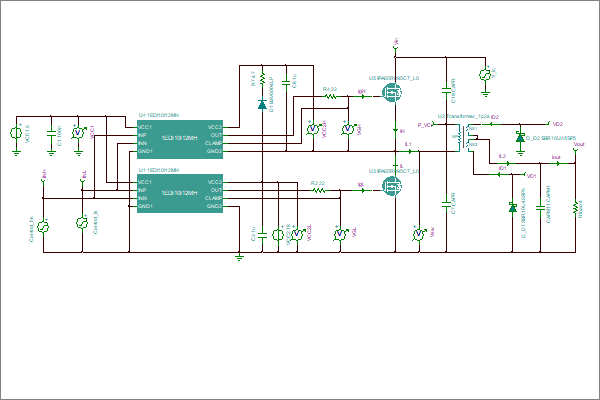 400 V Half Bridge Converter Two Single Channel Galvanic Isolated Gate Driver IC
EiceDRIVER™ 1EDI10I12MH

Typical application circuit

The 1EDI10I12MH are galvanically isolated single channel IGBT driver in a PG-DSO-8-59 package that provide
output currents up to 3 A and an integrated active Miller clamp circuit with the same current rating to protect
against parasitic turn on.
The input logic pins operate on a wide input voltage range from 3 V to 15 V using scaled CMOS threshold levels
to support even 3.3 V microcontrollers.
Data transfer across the isolation barrier is realized by the coreless transformer technology.
Every driver family member comes with logic input and driver output under voltage lockout (UVLO) and active
shutdown.

Other circuits
Technical Assistance
Gate Driver
Product Info: 1EDI10I12MH
Product Info: IPA65R095C7