400 V Half Bridge Converter Two Single Channel Galvanic Isolated Gate Driver IC EiceDRIVER™ 1ED3131MU12H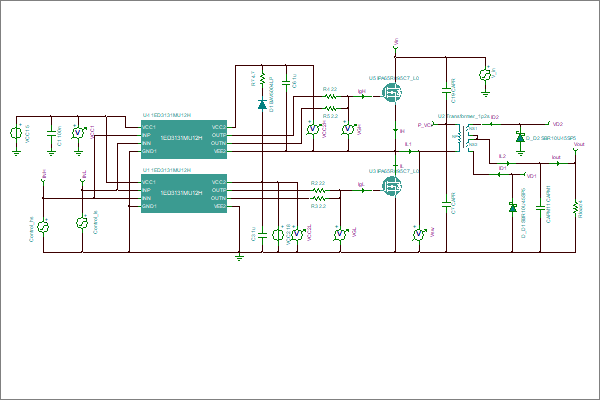 400 V Half Bridge Converter Two Single Channel Galvanic Isolated Gate Driver IC
EiceDRIVER™ 1ED3131MU12H

Typical application circuit

The 1ED3131MC12H gate driver ICs are galvanically isolated single channel gate driver ICs for IGBT, MOSFET
and SiC MOSFET in PG-DSO-8 package. They provide a typical output current of up to 14.0 A on
separate source and sink pins or a typical output current of 10.0 A with an additional 3.0 A active Miller clamp.
The input logic pins operate on a wide input voltage range from 3 V to 15 V using CMOS threshold levels to
support 3.3 V microcontrollers.
Data transfer across the isolation barrier is realized by the coreless transformer technology.
All variants have logic input and driver output under voltage lockout (UVLO), and active shutdown.

Other circuits
Technical Assistance
Gate Driver
Product Info: 1ED3131MU12H
Product Info: IPA65R095C7