5.7 kV, 9 A Single Channel Flexible Isolated Gate Driver IC EiceDRIVER™ 1ED3491MU12M with active Miller clamp, adjustable DESAT and Soft-off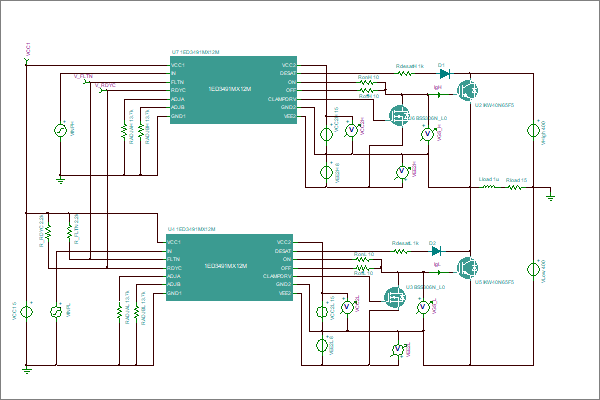 5.7 kV, 9 A Single Channel Flexible Isolated Gate Driver IC 1ED3491MU12M
with active Miller clamp, adjustable DESAT and Soft-off

The 1ED3491MU12M consists of galvanically isolated single channel gate driver ICs
in a small PG-DSO-16 package with a large creepage and clearance of 8 mm.
The gate driver ICs provide a typical peak output current of 9 A. Adjustable control
and protection functions are included to simplify the design of highly reliable systems.
All parameter adjustments are done from the input side, including adjustable DESAT
filter time, leading edge blanking time, and soft-off current level with only two resistors..
All logic I/O pins are supply voltage dependent 3.3 V or 5 V CMOS compatible
and can be directly connected to a microcontroller.

Model performance :
- Static Electrical Characteristics and Dynamic Electrical Characteristics
are modeled with the typical values from the datasheet.
- Temperature effects are not modeled

The following features have been modeled :
- Switching Characteristics such as propagation delay, peak currents, rise/fall times
- Shoot through prevention
- Under voltage lockout
- IGBT desaturation protection
- Suppression time
- Soft turn-off
- IGBT gate clamping against parasitic turn-on

Product Info: 1ED3491MU12M
Product Info: IKW40N65F5
Technical Assistance
Other circuits
Gate Driver