1200 V, 14 A, 5.7 kV Single Channel Isolated Gate Driver IC EiceDRIVER™ 1ED3124MU12H with separate output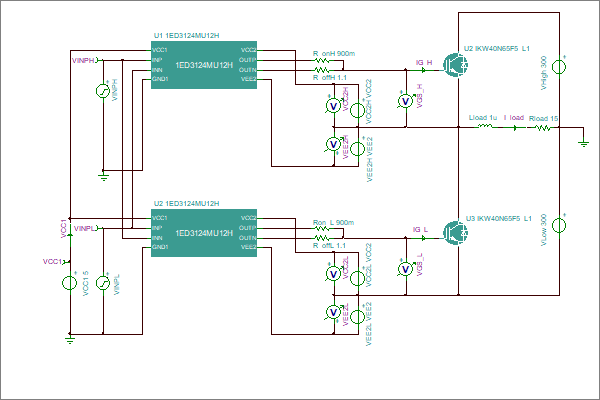 1200 V, 14 A, 5.7 kV Single Channel Isolated Gate Driver IC
EiceDRIVER™1ED3124MU12H with separate output

The 1ED3124MU12H gate driver ICs are galvanically isolated single channel gate driver ICs for IGBT, MOSFET
and SiC MOSFET in PG-DSO-8 package. They provide a typical output current of up to 14.0 A on separate
source and sink pins or a typical output current of 10.0 A with an additional 3.0 A active Miller clamp.
The input logic pins operate on a wide input voltage range from 3 V to 15 V using CMOS threshold levels
to support 3.3 V microcontrollers.

Model performance :
- Static Electrical Characteristics and Dynamic Electrical Characteristics
are modeled with the typical values from the datasheet.
- Temperature effects are not modeled

The following features have been modeled :
- Switching Characteristics such as propagation delay, peak currents
- Shoot through prevention
- Undervoltage lockout
- Short-circuit clamping
- Suppression time

Product Info: IKW40N65F5
Technical Assistance
Gate Driver
Product Info: 1ED3124MU12H
Other circuits