1200V, 4A Single High-side Gate Driver IC EiceDRIVER™ 1EDC40I12AH with Galvanic Isolation (UL 1577 certified), short circuit clamping and separate sink/source outputs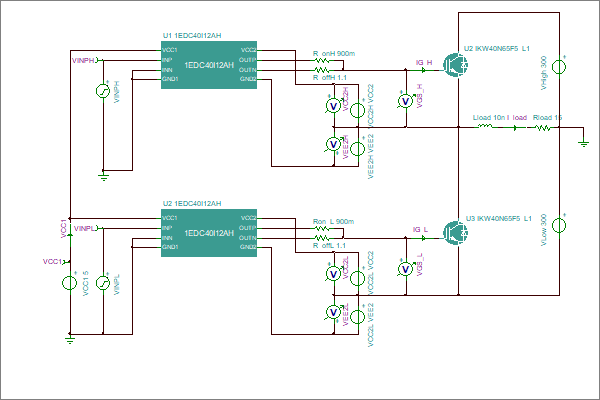 1200V, 4A Single High-side Gate Driver IC 1EDC40I12AH with Galvanic Isolation
(UL 1577 certified), short circuit clamping and separate sink/source outputs

EiceDRIVER™ 1200 V high side Gate Driver IC with typical 4.0 A source and 3.5 A sink currents
in a PG-DSO-8 package with CT technology for 600V/1200V IGBT Modules.

The input logic pins operate on a wide input voltage range from 3 V to 15 V using scaled CMOS threshold levels
to support even 3.3 V microcontrollers.

Data transfer across the isolation barrier is realized by the coreless transformer technology.
Every driver family member comes with logic input and driver output undervoltage lockout (UVLO) and active
shutdown.

Model performance :
- Static Electrical Characteristics and Dynamic Electrical Characteristics
are modeled with the typical values from the datasheet.
- Temperature effects are not modeled

The following features have been modeled :
- Switching Characteristics such as propagation delay, peak currents
- Shoot through prevention
- Undervoltage lockout
- Short-circuit clamping
- Suppression time.

Product Info: IKW40N65F5
Technical Assistance
Gate Driver
Product Info: 1EDC40I12AH
Other circuits