Dual H-Bridge Shield with IFX9202 for DC motors or other inductive loads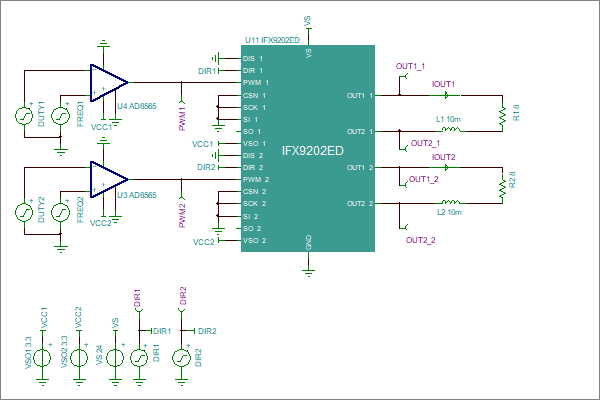 Dual H-Bridge Shield with IFX9202ED

{1. click here to set circuit parameters}
{2. click on "Run" to calculate components}
{3. click on "OK" and Simulate Transient }

{Supply Voltage [V] }
VS:=24 {use 5 ... 36}

{Switching Frequency [Hz] }
fsw:= 1k {use 100 ... 20k}

{Motor Parameters}
L1:=10m {inductance of motor coil L1 [H] }
R1:=8 {inductance of motor coil R1 [Ohm] }
L1:=10m {inductance of motor coil L2 [H] }
R2:=8 {inductance of motor coil R2 [Ohm] }

The IFX9202ED H-Bridge Shield in the Arduino format is an universal
development kit for Infineon's General Purpose Fully-Integrated
Dual-H-Bridge IFX9202ED which is designed for (but not limited to)
the control of DC motors or other inductive loads up to 6 A in industrial
and home appliance applications.

The IFX9202ED is protected against short circuits and over temperature
and provides diagnosis via SPI or basic error feedback via status flag.

Note:
Thermal behavior of the device is not modelled.

Buy online,tdl://file.shoppingcart)
\a(Product info: IFX9202ED,https://www.infineon.com/cms/en/product/power/motor-control-ics/intelligent-motor-control-ics/integrated-full-bridge-driver/ifx9202ed/)
\a(Board: Dual H-Bridge Shield with IFX9202ED,https://www.infineon.com/cms/en/product/evaluation-boards/ifx9202ed_dev_board/)
\a(Other circuits
Technical Assistance Center