24V low power LED strings and strips application based on linear ultra low drop voltage LED driver IC BCR430U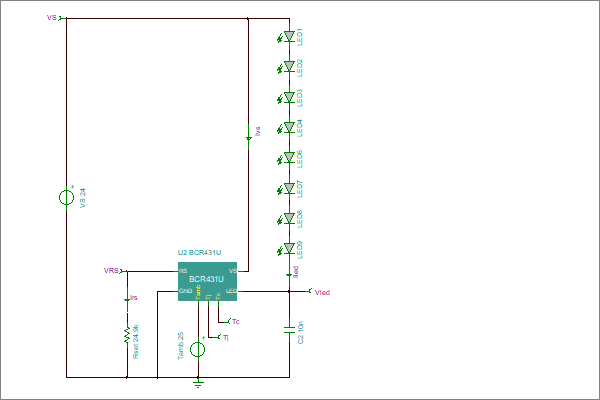 24V low power LED strings and strips application based on
linear ultra low drop voltage LED driver IC BCR430U

BCR431U is a linear LED driver IC in a small PG-SOT23-6 package regulating the LED
current in standalone operation without any external power transistor. The IC supply
voltage range is from 6 V up to 42 V. The LED current level can be adjusted up to 36.5 mA
connecting a high ohmic resistor Rset to pin RS. The maximum voltage drop at the
integrated LED driver stage is 200 mV at 32.8 mA improving the overall system efficiency
and providing extra voltage headroom to compensate for tolerances of LED forward voltage
or supply voltage. The smart over temperature protection function reduces the LED current
when junction temperature of BCR431U is very high.

- Double click on the green window to enter design criteria
- Click on "Run" and Simulate Transient

Evaluation Board: DEMO_BCR431U_LVDROP
Product info: BCR431U
Technical Assistance
Other circuits