100W 4Ohms x 2 Channel Class D Audio Power Amplifier based on self-oscillating half-bridge topology featuring IR4302M PowIRaudio™ integrated Class D Audio IC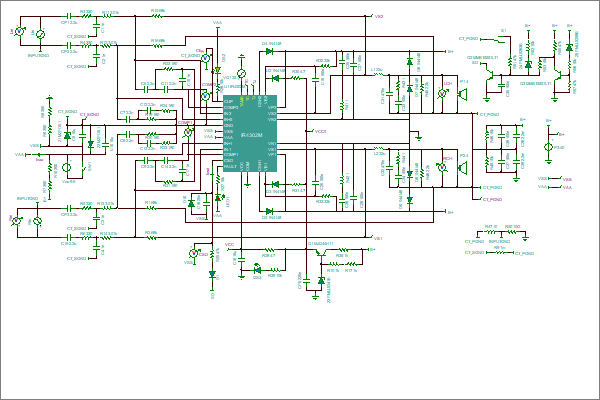 2 Channel Integrated IR4302M Class D Audio Amplifier

The IR4302M integrates 2 channel PWM controller and digital audio MOSFETs forming a high
performance Class D audio amplifier. As a result of fully optimized MOSFETs co-packed with
a dedicated controller IC, the IR4302M operates without mechanical heatsink attached in a
typical music playback usage. High voltage ratings and noise immunity in the controller IC
ensures reliable operation over various environmental conditions. A small 7x7 mm PQFN
package enhances the benefit of smaller size of Class D topology. The IR4302M series is a
lead-free, ROHS compliant.

ON: Ivaa test

CP5: 22u -> 220n

C16: 22u -> 100n

UVP

OVP

ON

OFF

Integrated Class D Audio Amplifier ICs MERUS™ MCM IR43xx functional description
Audio Power Quad Flat Pack No-Leads (PQFN) Board Mounting
Similar Products
Evaluation Board: IRAUDAMP16
Product info: IR4302M
Other circuits
Technical Assistance
Evaluation Board: IRAUDAMP17