12 V Automotive Multi MOSFET Driver IC MOTIX™ TLE92108-232QX with adaptive gate control: full bridge concept circuit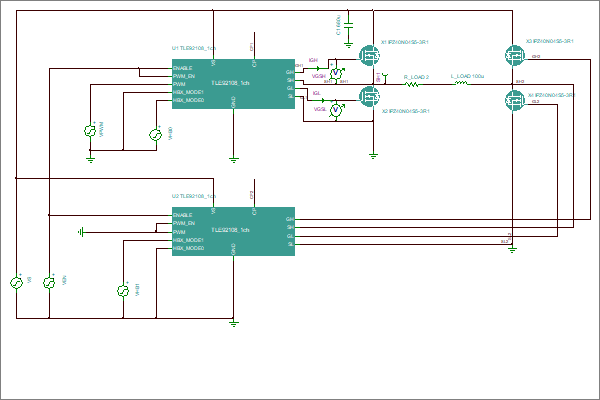 12 V Automotive Multi MOSFET Driver IC MOTIX™ TLE92108-232QX with
adaptive gate control: full bridge concept

The TLE92108-232QX is a Multi-MOSFET driver IC dedicated to control up to sixteen n-channel MOSFETs. It
includes eight half-bridges for DC motor control applications such as automotive power seat control or other
applications.

A 24-bit Serial Peripheral Interface (SPI) is used to configure the TLE92108-232QX and to control the half bridges.
It also allows the read out of the status registers for diagnostic purpose.

The TLE92108-232QX offers a wide range of diagnostic features such as the monitoring of the supply voltage,
the charge pump voltage, temperature warning and over-temperature shutdown. Each gate driver monitors
independently its external MOSFET drain-source voltage for fault conditions.

The device is housed in a VQFN-48 with exposed pad supporting lead tip inspection. The package provides a
good thermal performance and minimizes the required PCB space.

OFF

ON

PWM

FW

Product Info: IPZ40N04S5-3R1
Gate Driver
Other circuits
Technical Assistance
Product Info: TLE92108-232QX