24V dual channel smart High Side Switch PROFET™ BTF6070-2ERV test-bench short circuit and over-temperature protection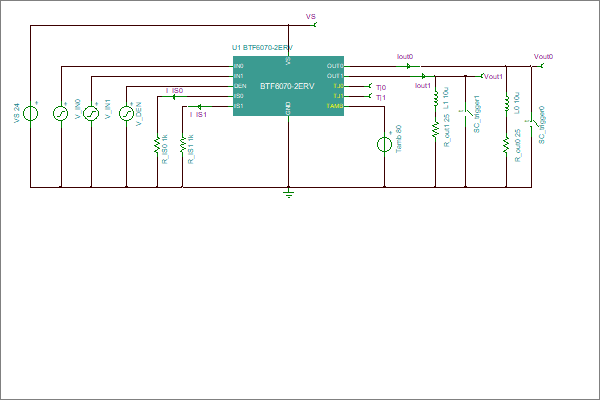 24V Dual Channel Smart High-Side Switch BTF6070-2ERV
Protection Features: Short Circuit with Current Limitation
& Over-Temperature Latch

Thermal Model description:
select_rc=1: P=1W; T=85°C; PCB type: 1s0p footprin
select_rc=2: P=1W; T=85°C; PCB type: 1s0p 300mm2
select_rc=3: P=1W; T=85°C; PCB type: 1s0p 600mm2
select_rc=4: P=1W; T=85°C; PCB type: 2s2p
where: P=power injected in chip; T=ambient temperature

The BTF6070-2ERV is a 60 mΩ dual channel Smart High-Side Power Switch
It is specially designed to drive Valve Applications in the harsh automotive
environment.The µC compatible power switch can serve a wide application
portfolio starting from 12V, 24V and up to 42V DC.

This circuit demonstrates the short circuit with current limitation and over-
temperature latch protection features of the BTF6070-2ERV. Many other
PROFET™ devices provide similar protection features.

Once short circuit condition occurs, the load current increases dramatically
and the instantaneous power in the switch is maintained at a safe value by
limiting the current to the maximum current allowed in the switch IL(SC).
During this time, the DMOS temperature is increasing, which affects the current
flowing in the DMOS.

PROFET™ +24V: What the designer should know
Smart Switch Finder
Body Power Application Overview
Other circuits
Technical Assistance
Product info: BTF6070-2ERV