Automotive smart high side switch BSP742R test-bench: reverse battery protection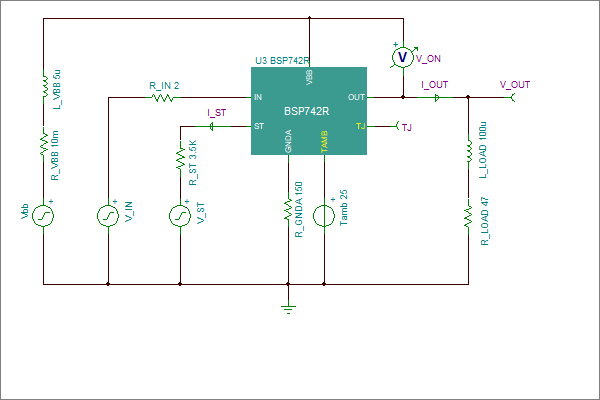 Smart High-Side PMOS Power Switch with BSP742R
Protection: Reverse battery protection

Thermal model description:
THERMALMODEL = 1: 1S0P PCB 600mm2
THERMALMODEL = 2: 2S2P no vias
THERMALMODEL = 3: 2S2P vias

{1. click here to set circuit parameters}
{2. click on "Run" to calculate components}
{3. click on "OK" and Simulate Transient }

{Thermal model number: }
THERMALMODEL:= 1 {use 1 .... 3}

The BSP742R is high side power switch with integrated vertical power
FET, providing embedded protection and diagnostic functions.

The reverse load current through the intrinsic drain-source diode has
to be limited by the connected load. Power dissipation is higher compared
to normal operating conditions due to the voltage drop across the drain-
source diode. The temperature protection is not active during reverse
current protection.

Product info: BSP742R
Smart Switch Finder
PROFET™: What the designer should know
Other circuits
Technical Assistance