Automotive 12V Smart High-Side Power Switch Power PROFET™ BTS50020-1TAD supporting high Inrush Currents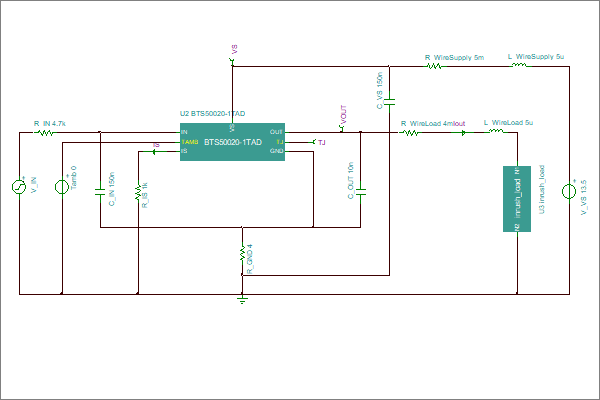 Automotive 12V Smart High-Side Power Switch
Power PROFET™ BTS50020-1TAD

Change the DC duration by modifying the simulation time:

"Analysis->Transient: Start - End Display"
- Double click on the green window to enter design criteria
- Click on "Run" and Simulate Transient

Thermal Model description:
THERMAL_MODEL=1: P=1W; T=85°C; PCB type: 1s0p 300mm2
THERMAL_MODEL=2: P=1W; T=85°C; PCB type: 1s0p 600mm2
THERMAL_MODEL=3: P=1W; T=85°C; PCB type: 1s0p footprint
THERMAL_MODEL=4: P=1W; T=85°C; PCB type: 2s2p
where: P=power injected in chip; T=ambient temperature

The BTS50020-1TAD is a 2.0mΩ single channel Smart High-Side Power Switch,
embedded in a PG-TO-263-7- 10 package, providing protective functions and
diagnosis. It contains Infineon® ReverSave™ functionality. The power transistor
is built by a N-channel power MOSFET with charge pump. It is specially designed
to drive high current loads up to 60 A, for applications like switched battery
couplings, power distribution switches, heaters, glow plugs, in the harsh automotive
environment.

Product info: BTS50020-1TAD
Body Power Application Overview
Other circuits
Smart Switch Finder
Technical Assistance