Automotive Low Dropout (LDO) Linear Voltage Regulator OPTIREG™ TLE4678-2LD application circuit for 5V output voltage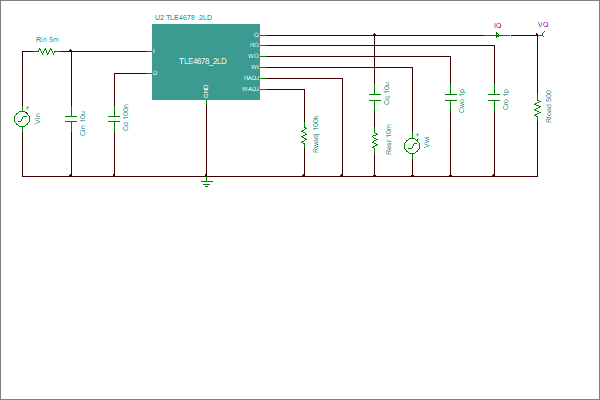 Automotive Low Dropout (LDO) Linear Voltage Regulator OPTIREG™ TLE4678-2LD

Model performance :
- dynamic behavior not modeled (CQ/ESR stability, line/load transient
response, start-up, PSRR)
- static behavior is modelled by approximation to the real behavior of
the device at temperature = 25°C

The integrated reset and watchdog function, as well as several protection circuits, combined with a wide
operating temperature range offered by the TLE4678-2LD make it suitable for supplying microprocessor
systems in automotive environments. The watchdog circuitry will be disabled in case the output current
drops below a programmable threshold, enabling a microcontroller to switch in stand-by mode.
Modifying the reset threshold is possible by an optional resistor divider. The TLE4678-2LD is available
in a small thermally enhanced PG-TSON-10 exposed pad package.

Other circuits
Product info: TLE4678-2LD
Technical Assistance
Voltage Regulator