12V Automotive LED synchronous H-Bridge topology with LITIX™ Power controller TLD5190 (Input Voltage Ramping)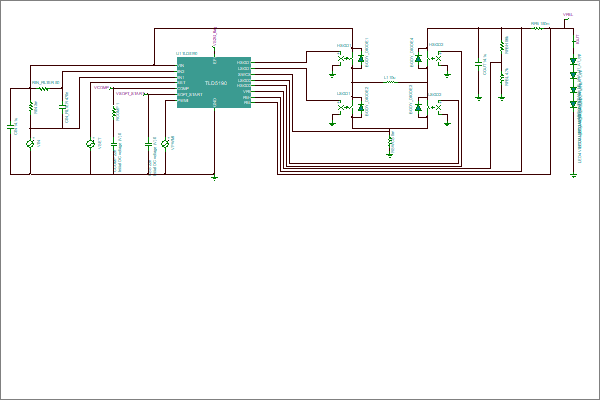 12V Automotive LED synchronous H-Bridge topology with LITIX™ Power controller TLD5190 (Input Voltage Ramping)

- Change simulation time:
"Analysis->Transient: Start - End Display"
- Double click on the green window to enter design criteria
- Click on "Run" and Simulate Transient

The TLD5190QV is a synchronous MOSFET H-Bridge DC/DC
controller with built in protection features. This concept of a
synchronous and seamless buck-boost regulation provides a
very efficient solution for circuits where the output (load) voltage
is on the same level as the input voltage, e.g. in short chains
with 2 to 3 high power LEDs or laser diodes connected to a
12 V electrical system.

This test bench shows how the regulator reacts to changes in the
input voltage (VIN) while the circuit is in steady state. Output current
is monitored while the regulator tries to compensate for input voltage
variation below or above the nominal output voltage. The load is fixed
formed by 4 LEDs driven by 1 A average current.

Notes:
BODY_DIODE is not a real diode but a Voltage Controlled Current
Source which models the threshold and ON/OFF states resistance.
RCOMP is a placeholder for further adjustment of the resistor for
stability purpose. Keep unchanged otherwise. S2G is a virtual pin
used for monitoring short to ground fault if VFB<0.563V for at least
8 clock cycles. During start-up, the detection is ignored until
VSOFT_START>1.75V.

Model Application Note
Other circuits
Evaluation Board: TLD5190 VOLT DEMO
Evaluation Board: TLD5190QV DEMO V2
Evaluation Board: TLD5190QV DEMO V1
Technical Assistance Center
Product info: TLD5190QV