12V Automotive LED Boost to GND topology with LITIX™ controller TLD5095EL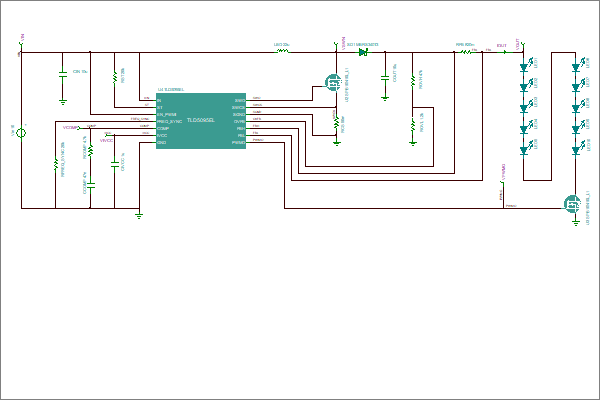 12V Automotive LED Boost to GND topology with LITIX™ controller TLD5095EL

- Change simulation time:
"Analysis->Transient: Start - End Display"
- Double click on the green window to enter design criteria
- Click on "Run" and Simulate Transient

The TLD5095EL is a LED boost controller with built in protection features. The controller
concept of the TLD5095EL allows multiple configurations such as Boost, Buck, Buck-Boost,
SEPIC and Flyback by simply adjusting the external components. TLD5095EL is the simplest
member of the TLD509x series and comes with reduced maximum output voltage of 45V,
less current accuracy and is missing the analog dimming feature as well as a short to ground
protection.

The test bench shows a typical Boost to Ground topology driving a string of 10 LEDs with a DC
current of 365mA.

The switching frequency is set to 300kHz. For more information, please consult Application
Information section from datasheet.

Technical Assistance
Other circuits
Product info: TLD5095EL
Demo Board: DEMOBOARD TLD5095EL VER1
Demo Board: DEMOBOARD TLD5095EL VER2